Top Ideas for Your Outdoor Kitchen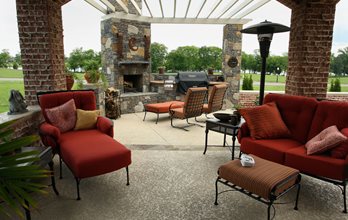 At this outdoor kitchen and lounging space in Nashville, the fireplace next to the cooking area makes for a cozy hangout spot. Patio floor by SUNDEK of Nashville.
For anyone who loves to cook for family and friends, an outdoor kitchen is a game-changer. The ability to cook outdoors while entertaining means you don't have to heat up your house (a major perk during summer months!) and you get to hang out where your guests are hanging out.
Here are a few things to think about when planning your outdoor kitchen so you can make sure it's a great spot to cook and visit with guests.
Get a free quote
Think about how you'll use it.
This sounds like such obvious advice, but it's easy to go down the wrong path when you begin looking at inspiring pictures. Don't be tempted by elaborate setups that include elements you won't use. For example, if the idea of cooking homemade pizza and baking it in a woodfired pizza oven sounds idyllic to you, that's great—but if in reality you're more likely to barbeque, it makes more sense to invest in a nice grill than a woodfired pizza oven you may not use often. Here are some questions to ask yourself:
What's cookin'? Will you actually use stovetop, or will a grill meet your needs? If you're a budding pizza artist, a pizza oven could be a wonderful place to make memories with family and friends.
What additions will make your space more useful? With so many kitchen amenities available now, it's easy to make it so that everything you need is right in your backyard. If you often host large gatherings, you might find a warming drawer useful. If you have a pool and spend lots of time outdoors during summer, an ice maker and/or fridge may come in handy.
Where will you store the necessities? Do you need drawers to hold utensils? How large should your prep space be? If you are investing in a wood-fired pizza oven, where will you store the wood? Thinking about storage will go a long way in creation a functional space.
Where will the taste-testers sit? People love chatting with (and taste-testing for!) the chef. Make your space one that allows for people to hang out safely. If you have the space, a countertop with barstools makes for a fun spot for people to hang out and chat near the action.
When you determine how you'll actually use the space, you can cut out elements you don't envision yourself using and instead spend that money on those "nice to haves" that you'll get a lot of use out of.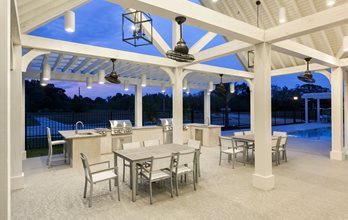 At a property in New Orleans, Classic Texture was applied to the surface of this patio space to create a floor that integrates well with the look of the outdoor kitchen and is also comfortable to walk on.
Get a floor that's worthy of your outdoor kitchen.
A floor that's durable, beautiful, and easy to clean is a key ingredient of and outdoor kitchen. If the concrete patio you have now needs some work, consider concrete resurfacing. With concrete resurfacing, an experienced contractor can install a decorative coating right on top of your existing concrete surface. That means you don't need to add the cost and mess of a demo job on top of your outdoor kitchen project.
What makes decorative concrete floors perfect for outdoor kitchens?
When sealed properly, they're non-porous, which means spills won't soak into the surface and stain it.
They're easy to clean—an important quality in a space where spilling food and drinks is inevitable. Simply sweep off or hose off as needed. For stubborn stains, you can use a commercial cleaner that's formulated for the surface and scrub it with a brush.
They can be customized to fit the style of any space. With decorative concrete coatings, a contractor such as SUNDEK can create a surface in just about any color, texture, and pattern. SUNDEK contractors can even create the look of other materials such as brick, slate, cobblestone, wood, and more with a stamped concrete overlay.
Find a contractor in your area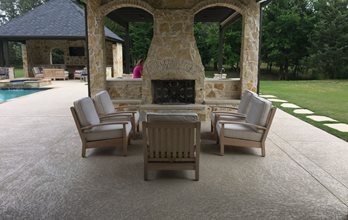 While the kitchen in this space is convenient to access, it doesn't interfere with pool-goers or people relaxing poolside, maintaining a good flow for the space.
Contemplate the logistics.
Here are some questions to consider when deciding where you want your outdoor kitchen.
Indoor kitchen proximity. If you need your outdoor kitchen to be close to the indoor kitchen, make sure there's a clear path between the two so the trek isn't cumbersome.
Can you stand the heat? If your outdoor kitchen is in a spot that's highly exposed, it might be an uncomfortable place to cook during summer. Your stainless-steel appliances and utensils will also heat up quickly sitting out in the sun. There are many remedies to this problem, though, such as installing a shade sail or putting up a large umbrella. Just make sure the shade solution will work with your space.
Other outdoor activities. Think about other things that will be happening in your outdoor space and where those activities are located. For example, if you have a bocce court, make sure people won't be tossing the bocce balls in the direction of your barbeque.
Lighting. Make sure you have adequate lighting for gatherings after dark.
Consider safety. Just like an indoor kitchen, an outdoor kitchen has its dangers. Ideally, you'll make sure it's positioned in a way to reduce potential accidents such as guests walking next to a hot grill or children grabbing knives or skewers.
Strategize landscaping.
Being in nature and seeing plant life adds a special element to cooking outdoors. In this article on Kitchen & Bath Design News, Kim Berndtson notes that "when planning indoor kitchens, designers are frequently tasked with 'bringing the outdoors in,' which they often accomplish with material selections or a strategically positioned view of nature."
Positioning your kitchen in a way that gives it a view of the backyard beyond creates a rich experience for yourself and your guests. If you must face a wall, consider going vertical with your plants or including a climbing vine to enhance the greenery in the space.
Using edible plants from your own garden is another way to make an extra special outdoor cooking experience. Figure out the best spots for herbs and the like so you can easily pick, rinse, then add them to your dishes. Incorporate edible plants nearby by using tiered containers, hanging planters, flanking either side of your kitchen space with pots, and even on living walls.
Interested in a new floor for your outdoor kitchen?
One of our SUNDEK installers around the country would love to visit your site and provide a free quote. Find a local contractor to get started!
Related content:
Patio Resurfacing & Repair
References:
Berndtson, K. (2021, April 6). Inside Out. Kitchen & Bath Design News.
https://www.kitchenbathdesign.com/inside-out-4/
Your Local Contractor:
SUNDEK OF WASHINGTON
14121 Parke Long Ct. #109
Chantilly, VA 20151