Three Ways to Add Curb Appeal Now
If you're looking to sell, chances are you've been thinking about your property's curb appeal. The front of your home or business is the first thing potential buyers see and making a good first impression is important.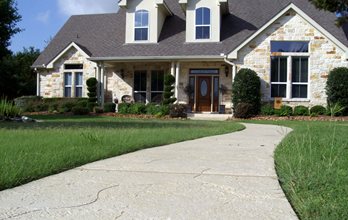 A stunning pathway resurfaced by SUNDEK of Austin leads to this beautiful home in Round Rock, TX.
Even if you're not in the market to sell, adding to the curb appeal of your home is a worthwhile investment. Making the front of your home or business an eye-catching spot that brings you happiness every time you see it is a worthwhile endeavor—why not improve its look for your own enjoyment?
Get a free quote
Here are three ways you can improve the look of your home or business now.
1. ENHANCE YOUR DRIVEWAY
If your driveway looks drab and outdated, there are ways to liven it up without having to tear the whole thing out and start from scratch.
Resurfacing
One option is to resurface the driveway. Resurfacing is when you apply a coating directly to the top of a properly prepared concrete surface. Before applying the coating, a reputable contractor will fix any issues that are present such as cracking, chipping, unevenness, or other damage.
A decorative concrete contractor who specialized in coatings, such as SUNDEK, will be able to design the driveway according to your preferences. Skilled contractors can even create the look of brick, cobblestone, wood, pavers, or any other material you like.
It's important to note that if the concrete has significant damage such as extremely wide or deep cracks, it may not be possible to have it resurfaced. A reputable contractor will assess the surface to determine whether your driveway is viable and can be resurfaced.
TIP: Is your driveway wide enough? If not, consider having a contractor add a foot to each side of the driveway before resurfacing. The extra space will be useful, and with resurfacing you can't tell where the old concrete ends and the new concrete begins.
Staining
Another way to give new life to your driveway is through staining. By staining your concrete driveway, you can add beautiful color without having to rip the whole thing out and start from scratch.
When it comes to staining your driveway, you can choose from a variety of stain types that offer a wide assortment of color options ranging from vivid and vibrant to muted and neutral.
2. FIX DAMAGED OR DATED WALKWAYS OR STEPS
As Tom Scalisi notes in his article "These 3 Things are Ruining Your Home's Curb Appeal—Here's How To Fix Them" on Bob Villa, "If the first thing people are experiencing as they walk up to your front door is a set of crumbling steps, your home's curb appeal is taking a serious hit." The same goes for walkways.
In addition to not making a good visual impression, damaged walkways or steps up to a home or business can be dangerous. Cracks, chipping, and uneven spots are all just a step away from an injury. It's important to fix those issues or hire a reputable contractor to fix them.
After repairing the damage, you can choose to have your walkways and stairs resurfaced so they look new again.
If your walkways or stairs are not damaged and you think they're simply in need of a visual update, resurfacing is also a great option for getting a brand-new look without having to tear everything out and start from scratch.
3. MAKE YOUR FRONT PORCH OR ENTRYWAY AN INVITING SPACE
There are simple and inexpensive steps you can take to make your front porch or entryway more inviting. Here are just a few ideas:
Spruce up your front door. If your front door is looking shabby, a fresh coat of paint can work wonders. Replacing the hardware can also serve give your door a visual boost.
Add greenery. Plants flanking either side of your door, hanging planters, or a grouping of pots staggered on the steps leading up to your door are all great ways to add green. Be strategic about the plants, too. Plants with a nice scent such as roses, lavender, or fragrant Jasmine creates a welcoming aroma for you and your guests.
Check lighting. If your porch lights are dusty or dingy, take the time to wipe the dust off. You'll be surprised how much brighter it gets. If you have a light fixture that's still in good shape, you can spray paint the structure of the fixture to make it look brand new again (just be sure to mask off or remove parts that should not be painted). Depending on how your porch is laid out, motion lighting may also be a good idea for safety purposes. Also consider adding lights along the pathway leading up to your porch or entryway.
Keep things fresh. Change out annual plants and porch décor to fit with the holiday or season. When people see the potential of a space, it helps them envision the possibilities.
Contact us about your project
If you want our help improving your curb appeal, we can look at your project site and give you a free quote.
Contact your local SUNDEK contractor
References
Scalisi, T. These 3 Things are Ruining Your Home's Curb Appeal—Here's How To Fix Them. Bob Vila. https://www.bobvila.com/articles/three-things-ruining-curb-appeal-how-to-fix-them/
Your Local Contractor:
SUNDEK OF WASHINGTON
14121 Parke Long Ct. #109
Chantilly, VA 20151