What Are the Best Options for Concrete Pool Deck Finishes?
Having an outdoor pool is one of the best ways to maximize the use of your outdoor space. There is nothing better than spending a hot day lounging poolside with friends and family. In order to maximize the appearance and safety of your outdoor pool, be sure to choose the right concrete pool deck coating from SUNDEK.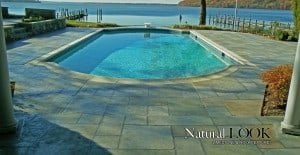 SUNDEK Pool Deck Coatings
Material Options for Concrete Pool Decks
If you are looking for the best material to use in your concrete pool deck, you can count on SUNDEK to offer the greatest variety. Below you will find an overview of some of SUNDEK's top pool deck finishes to help you make your choice.
Classic Texture – SUNDEK's Classic Texture overlay is one of the most popular options for pool decks because it is easy to apply and offers the ideal combination of durability and safety. This overlay is typically applied by spraying the acrylic onto the surface then knocking it down with the edge of a trowel to create texture.
SunSand – The SunSand system is ideal for pool decks because it combines the durability and easy maintenance of concrete with the slip resistance of sand. This pool deck finish consists of a water-based acrylic coat combined with glass beads, aluminum oxide, or other fine aggregates to enhance the slip resistance – it also helps protect the surface against weather and environmental pollutants.
SunClear EcoProtect – This clear protective concrete sealer is a great finish option for pool decks because it makes the surface easy to clean and maintain, plus it helps the concrete withstand heavy foot traffic. The SunClear EcoProtect coating can be applied through spraying or rolling, and fine-grain aggregates can be added to ensure maximum slip resistance – this is very important for pool deck safety.
SunH20 – The SunH20 system from SUNDEK is a type of water-based concrete stain that is perfect for outdoor applications. This concrete dye offers excellent adhesion to concrete surfaces, and it can be layered with multiple colors for a unique appearance. The SunH20 dye is typically applied with a pump sprayer then sealed with a clear coating.
Installing a new pool deck or resurfacing an existing one is no easy task – that is why you should trust the professionals at SUNDEK to do the job for you. Not only does SUNDEK offer some of the best materials for pool deck finishes, our experienced professional Dealers around the country will install your new pool deck quickly and correctly.