Decorative Concrete & Design Trends for 2022
More important than following any design trend is creating a space that makes you happy. With that said, it's fun to get some inspiration for your own space by seeing what design styles are popular. We looked at what design ideas are taking hold in 2022—and here we share how decorative concrete fits into the picture.
Get a free quote
Improving Outdoor Hangout Spots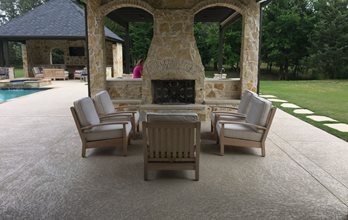 SUNDEK of Nashville used Classic Texture to resurface this pool, outdoor kitchen, and general hangout space.
The amount of time people spend at their own homes has increased significantly in the past two years, and many are finding ways to make the most of their outdoor spaces.
In an article on Architectural Digest, Jean Brownhill, founder of Sweeten, says that "Pools, water features, outdoor kitchens, fire pits, and extensive seating and dining areas are high on wish lists." These features, which give us more to do in our backyards with family and friends, can be beautifully designed using decorative concrete.
Here are some of the common features people are adding or remodeling to improve their outdoor spaces—and how you can enhance them with decorative concrete:
Pools. With a wide range of colors, textures, and patterns, decorative concrete coatings can transform a plain, boring pool deck into an eye-catching focal point. A quality contractor will also make sure your pool deck stays cool, even during the hottest months of the year.
Outdoor kitchens. A decorative concrete outdoor kitchen floor is not only gorgeous, but it's also easy to clean. See outdoor kitchen design ideas.
Fire pits & water features. Decorative concrete isn't limited to the floor. Your fire pits and water features can also be resurfaced in a way that matches or coordinates other surfaces in your outdoor space.
Seating and dining areas. For these frequently used areas of your outdoor space, decorative concrete has all the right qualities: durable, pretty, slip resistant, and easy to maintain.
Contact us for a free quote on your project!
Choosing Low-Maintenance
To make their spaces more enjoyable, more and more homeowners are often focused on one thing: keeping everything low maintenance. In this article, Yardzen, a custom landscape design company, notes that 89% of their customers requested a low-maintenance yard in 2021.
When it comes to choosing a reliable, low-maintenance surface for your home, decorative concrete coatings are the way to go. Here's a general overview of the minimal maintenance required to maintain an outdoor decorative concrete surface:
Every few weeks:

Use a broom or mop to remove dust, grass clippings, or other debris.
Simply spray off the surface with a hose to resolve any dirty spots.

As needed:

Even though several of our top coatings are chemical and moisture resistant, clean chemical spills as quickly as possible.
For stubborn spots, use commercial cleaners that are non-abrasive and formulated for the surface. You can use a pressure washer if necessary.

Every few years:

Seal the surface to protect it from general wear and tear and other damage. (Discuss this with your contractor to determine how often you should reseal your surface.)
Creating a Minimalist Look & Feel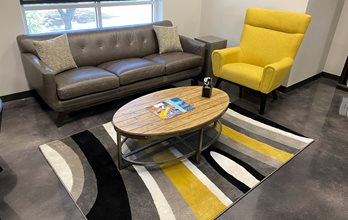 This concrete floor was transformed with SunBurn, a burnishable stain that adds color and sheen.
In the same vein as keeping upkeep low-maintenance, homeowners are also gravitating toward more simplicity through a minimalist style. Minimalism goes beyond just paring down your belongings—it's about cutting out visual distractions. In an article on Apartment Therapy, designer Eden Morrison notes that "Clean lines and open, airy spaces highlight the main purpose of a room." Decorative concrete floors are perfect for achieving that look.
For a long time, decorative concrete floors have been the flooring of choice for minimalist design for the following reasons:
They can be designed without seams, ridges, or joints to create a clean look that you can't get with materials such as tile, brick, or wood.
They have a sleek and clean appearance—a leading attribute of minimalist design that you can't get with carpet.
For a minimalist look that's very easy to maintain, check out SUNDEK's SunBurn Burnishable Stain floors.
Have a project in mind? Contact us to get a free quote!
Opting for Pet-Friendly Solutions
You don't have to sacrifice the aesthetics of your home to have a furry friend around. In an article on MarthaStewart.com, Kelsey Mulvey notes that well-designed pet-friendly furniture is catching on. We're taking this trend to the next level by suggesting that homeowners with four-legged family members keep concrete floors in mind when choosing a flooring material. These qualities make decorative concrete the ultimate flooring solution for people with pets:
Easy-to-clean. Whether you're in the midst of training a young puppy or have a dog that sheds a lot, a floor that's has a straightforward cleaning regimen is ideal. Sweeping up hair and wiping up messes on a concrete floor is a breeze.
Allergen-free. For anyone who struggles with allergies from pet dander, one of the biggest upsides of concrete coatings is that they don't attract dust, dander, mites, or other allergens that typically hide out in carpet.
Non-slip. With the right texture or anti-slip additives incorporated into a sealer, a decorative concrete floor is perfectly safe to walk on, so you don't have to worry about your older animal slipping around as they wander.
Looking for a contractor to help you make improvements on your indoor or outdoor spaces?
At SUNDEK, we have installers around the country trained to install high-quality decorative surfaces.
Your Local Contractor:
SUNDEK OF WASHINGTON
14121 Parke Long Ct. #109
Chantilly, VA 20151