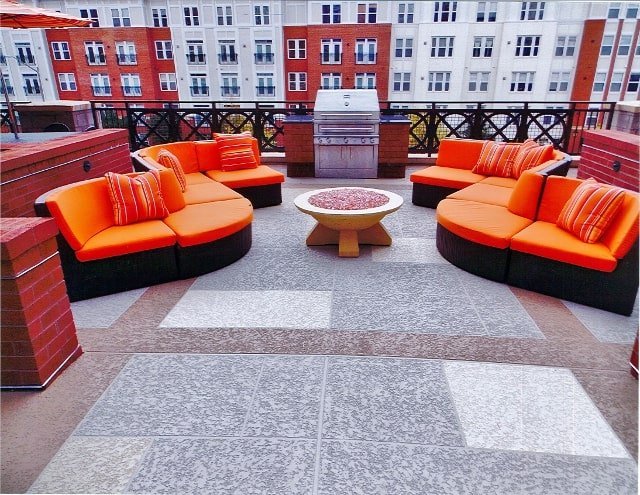 Sundek Classic Texture Effects
Probably the most versatile of all the Sundek decorative concrete overlays is the Classic Texture Effect which has a wide variety of decorative features that can be designed into the final product. These features include slip resistant textures, Masonry Effect patterns, Custom Score line Effects, Aggregate Effects and even custom graphic designs. All of which are completed in a myriad of quality Sundek acrylic color finishes.
While not only versatile in creative design, the Sundek Classic Texture Effect is a very durable performer under a variety of demanding conditions. Sundek Classic Texture has been installed around the world in nearly every climate fit for man or beast and has stood up to sizzling heat and frigid cold.
The most basic of these Classic Texture Effects 
is in mono-chromatic color with a texture only– nothing really over the top -yet clean and elegant. This Sundek Effect has been the signature look for Sundek Dealers for over 40 years. This is the perfect system for swimming pools decks-walks and patios – providing a cooler than concrete surface and a slip resistant texture. This allows the homeowner the full benefits of their backyard environment year after year.
Sundek Masonry Effects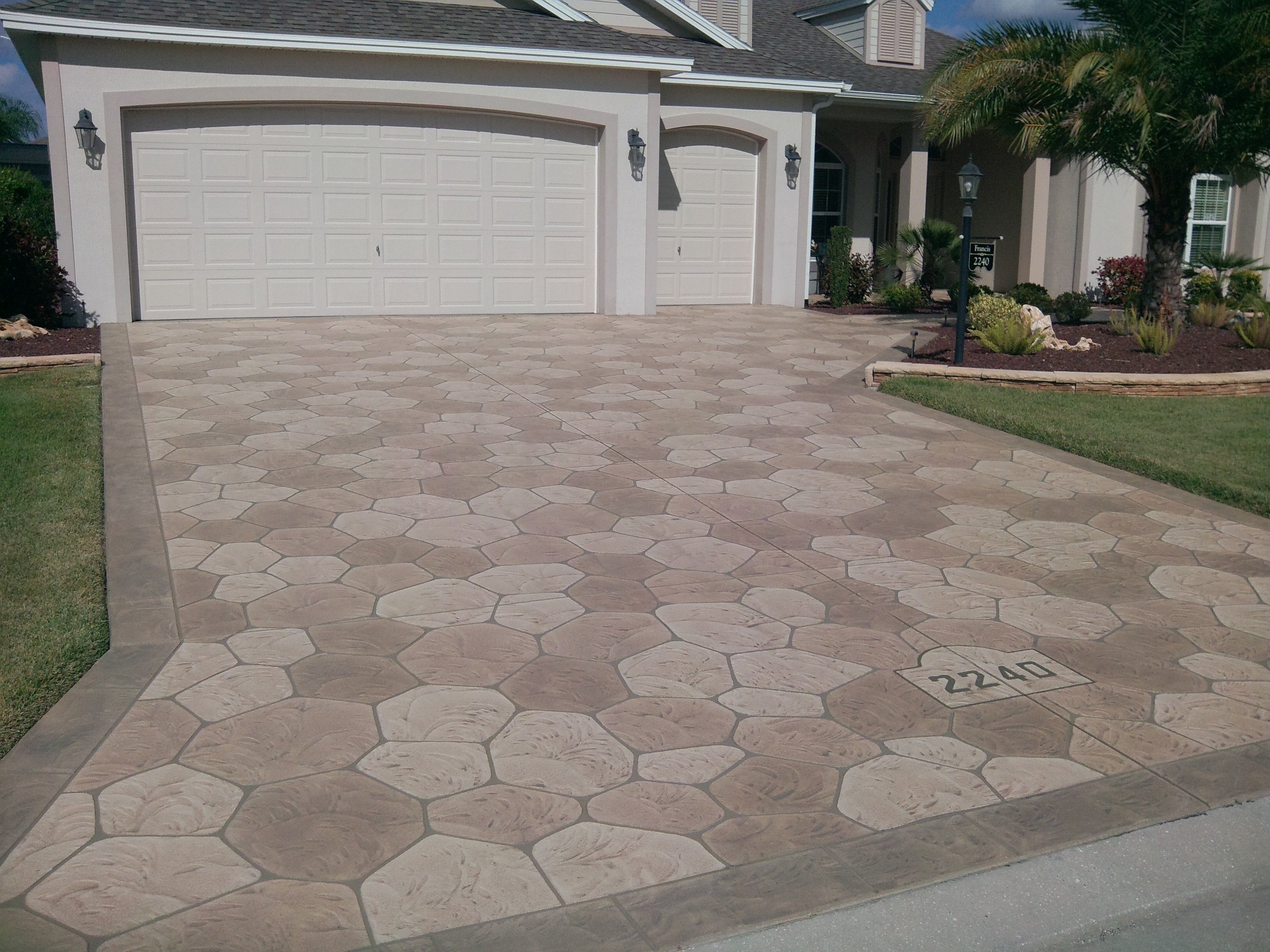 emulates the classic look of brick; tile or natural stone – combined with all of the built in benefits of the Sundek Classic Texture – coolness – slip resistance and affordability. Sundek Masonry Effects are a perfect complement to driveways, patio, walkways and entry areas. The combination of colors, patterns and design are limitless. Many of the patterns seen today are hand crafted- creating truly custom patterns that are totally unique to each customer.
Sundek Custom Scoreline Effects has been a "Game Changer" in the decorative concrete industry by enabling the customer and Sundek dealer to resurface old cracked concrete without the problem of crack re-occurrence in the new Sundek coating.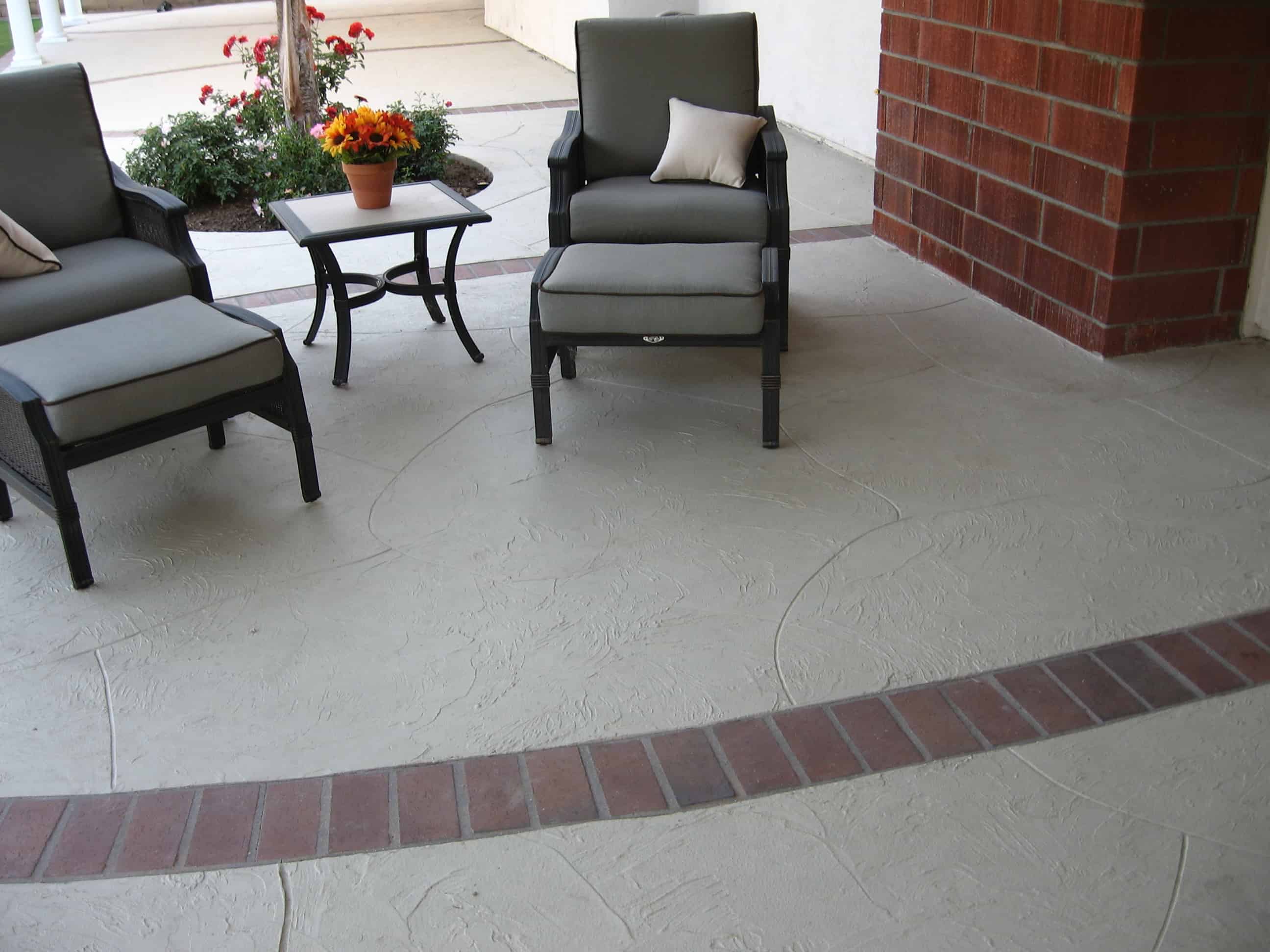 Basically being able to restore older, cracked concrete that was once considered unworkable for an overlay coating .The idea is to think of the existing cracks as "Mother Nature's Expansion Joints"- Cracks that are just doing their job in controlling the natural expansion and contraction movement of the concrete. Each "stone" pattern is indeed "Custom. Each crack is carefully opened with a grinder wheel and then an extended into a pattern is designed and developed by further grinding. The project is then completed with the Sundek acrylic color Finish Coat of the customer's color choice. Now the moving cracks –Mother Nature's expansion joints- can do their job without looking like a nasty old crack.
Sundek Aggregate Effects have been another one of those great Sundek innovations that allow the Sundek Classic Texture to take on an expanded "persona" with the additional application of a carefully crafted multi-colored combination of Sundek acrylic finish coat colors to mimic the look of granite. The benefit of this Effect- besides the added richness that it brings- is the ability to camouflage dirt and grim that gets tracked onto the surface. The Aggregate Effect also adds another dimension of color and a faux texture effect to the project.
So there you have it – Sundek Classic Texture –from Sundeck Products -the leader in the decorative concrete overlay systems that not only look great and provide awesome performance but hide cracks with the Custom Scoreline Effect , make itself look like brick, tile or stone or nearly anything else the customer desires with Masonry Effects but can camouflage the dirt , grim and any other crud that wants to crawl on it using the Aggregate Effects.
That's quite a package and it won't break the bank to have it at your home or business for that matter.
Now is a great time to get with your local Sundek Dealer and consult which Sundek Classic Texture Effect is the best for your project. In our next blog we will discuss the timeless look of the Sundek Stamped Overlay Effect.
[button link="https://www.sundek.com/dealers/quote" type="big" color="orange" newwindow="yes"] CLICK HERE to have a Sundek expert contact you about your next decorative concrete project![/button]