Is Decorative Concrete Slippery?
Most decorative coatings are meant to be beautiful with rich colors- patterns and textures –all in one beautiful, "eye popping" package! What makes most of these decorative concrete systems really do it all are the high gloss clear coats. An issue with that high gloss is that it can increase the probability of slip-fall accidents. Don't worry though, you can have both with a little compromising. Sundek can engineer slip resistance material into our Sundek Overlays. We will help you keep the glossy, wet look and still have an acceptable element of safety and still have the ability to clean the flooring easily can be a challenge because:
BEAUTIFUL HIGH GLOSS + SLIP RESISTENT + EASY TO CLEAN = TOUGH BUT DOABLE!
First of all let's consider safety. That is a bit complicated. Slip resistance – hum? What is considered safe when flat, dry and walked on by a rubber soled athletic shoe is dramatically different from a sloping wet sidewalk and a leather soled dress shoe. This is why the careful product selection process between the Sundek contractor and you, the property owner, is so critical. Your Sundek Design Consultant will ask you: What type of foot traffic is expected on this surface? Leather soled shoes or bare feet?
[box type="bio"] The two main elements involved in slip/fall scenarios are
surface texture
and
clear finish
choices- both of which directly dictate slip resistance and
clean-ability
. Let me explain. Trying to provide a slip resistant surface into the finished Sundek product can often be a two edged sword. If you make the walking surface extremely smooth with a high gloss clear finish, it is easier to clean and maintain. It, however, can be slippery as a hockey rink when the surface is wet! The other side of the spectrum is when you add slip resistant material creating more traction (better safety), it is more difficult to clean the surface. [/box]
The Sundek Classic Texture Effect is the most naturally slip resistant system in the Sundek product line up because of the "hi-lo" effect of the texture. It is used primarily around swimming pools and other wet environments where slip resistance is a key issue. Rarely is there a need for added slip resistant material in the Sundek finish coat. However in today's safety conscious world many Sundek Dealers provide slip resistant material to the Sundek finish coat as an added element of safety and peace of mind for their customers. The size and height of the texture can also affect the degree of slip resistance. Low and flat texture is less slip resistant than a taller texture. Now that we have a grip (bad pun) on the texture aspect and the resulting slip resistance, it becomes apparent that the more aggressive the texture the more clean-ability becomes an issue.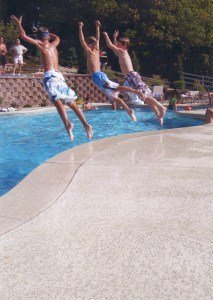 Without the help from added slip resistant materials, Sun Stamp overlay, Tuscan Texture effect and Sun Canvas and the other Sundek epoxy systems, all become more maintenance friendly. Because of the relatively smooth texture and the use of protective clear coats tend to lean toward the slippery side.
In summary, here are the factors to consider when deciding on texture coat, clear coat and if slip resistance properties are needed:
Type of foot traffic expected on this surface
Type of Finish Coat & rate of application – the more the buildup , the more traction goes away
Size and type texture- very flat and shallow texture provides less traction.
Degree of slope on the walking surface.
Based on your answers to the above questions, your Sundek Design Consultant will use these basic guidelines to help you, our Sundek customer, navigate the slip resistance vs. cleaning dilemma.
Let's start with selecting the right slip resistant aggregate for the job. Synthetic materials such as (Option 1) polypropylene beads or "Shark Grip" type materials are light weight and can easily mixed into the clear or Finish Coat, however these materials are softer compared to hard mineral materials and wear quickly in high traffic areas where there is shoe traffic. These materials are best suited for residential and light commercial applications. Heavy traffic areas or steep slope situations will require materials such as (Option 2) aluminum oxide or (Option 3) silica sand.
The next step is to choose the right size and rate of distribution of aggregate for the job. Typically larger particle size can be spaced further apart and demonstrate acceptable traction while providing better cleaning properties between particles. On the other hand the Sundek contractor can use a smaller aggregate size and space them much closer to achieve an almost sandpaper finish. This is very effective to achieve great traction, but can become a chore to clean because of the aggressive texture.
The trick is to find the right balance. If you are still unsure, your Sundek Dealer can provide a sample based upon your discussion.
When you are designing your next decorative concrete project please take the time to consult with your local Sundek Dealer about the importance of slip resistance and future maintenance. You will be glad you did and will enjoy your new Sundek with peace of mind that you have made the right decision on materials for the purpose of your new beautiful space.