Concrete Waterproofing Provides Protection for All Types of Surfaces
Do you need flooring that's extremely durable and can withstand years of use? SUNDEK's SunLastic line of products can be combined with other SUNDEK coatings to protect residential and commercial surfaces from water damage and abrasion.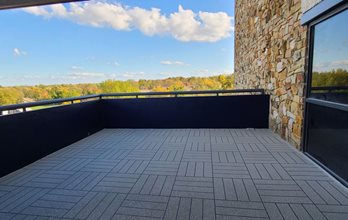 A deck resurfaced using SunLastic by SUNDEK, at the Griffin Gate Marriot in Lexington, KY.
Why waterproof your surface?
Aside from the obvious benefit of protecting your floors from water damage, there are other advantages to waterproofing. Waterproofed floors are also:
Easier to clean
Resistant to stains
Resistant to developing mold or mildew
What surfaces can be waterproofed?
You can apply waterproofing to any surface that you want to protect from water and other damage. Here are some surfaces that benefit from a waterproofing layer of protection.
At residential properties:
Balconies
Basements
Decks
Laundry rooms
Pool decks
Restrooms
Contact us for a free quote
At commercial properties:
Balconies
Decks
Gym floors
Kitchens
Locker rooms
Parking structures
Pool decks
Restrooms
Stairs
Storage closets
Walkways
Warehouse floors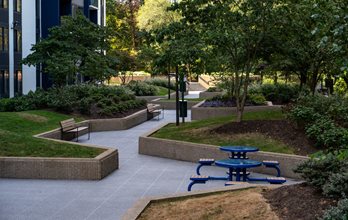 SUNDEK of Washington resurfaced and waterproofed 34,000 square feet of concrete, including this walkway, at an apartment complex in Alexandria, Virginia.
What are the design options for waterproofed floors?
Just because a surface is functional doesn't mean it has to be plain or ugly. SUNDEK contractors can use SunLastic products in tandem with SUNDEK's other decorative coatings products. That means you can take advantage of our wide range of colors, textures, and pattern options. We can even create the look of brick, limestone, cobblestone, wood, or any other material you like. Just let us know what you have in mind and we can make it happen.
See a waterproofing project at an apartment complex where one of our contractors resurfaced 34,000 square feet of flooring—making it beautiful and durable.
See a balcony waterproofing project for condos in Santa Fe, NM.
How can I waterproof my floor?
While you can buy a kit to waterproof your floor yourself, we strongly recommend hiring a professional contractor such as SUNDEK. Professional contractors have years of experience, so they know what pitfalls to avoid and what strategies to use to get the best results. At SUNDEK, we can also incorporate a decorative coating into the waterproofing process.
Here's an overview of how waterproofing works. Please note that this is only an overview—it's not meant to be a guide or tutorial for waterproofing your own floor. Consult a professional or do your own research before attempting this on your own.
Prepare. Properly preparing your surface for a waterproof coating entails sanding and thoroughly cleaning the surface. This labor-intensive step is critical in making sure the waterproofing material adheres to your surface.
Repair. Address cracking, spalling, chipping, gaps, or other damage to ensure your surface is sealed properly.
Prime. The appropriate primer will further prepare your surface for your waterproof coating.
Apply the waterproofing product. The waterproof coating must be applied evenly and as directed per the product instructions.
Apply a sealer.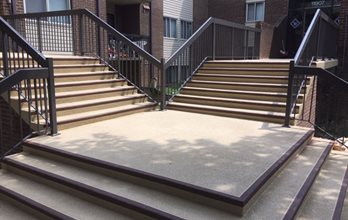 Stairs and landing in Reston, VA, resurfaced using SunLastic.
What waterproofing materials does SUNDEK have?
SUNDEK has two waterproofing materials: SunLastic WP50 and SunLastic EPC35. The product you choose depends on the type of surface you have and what qualities you're looking for. Need help determining which product is right for your project? Contact us!
What is it? A fluid, elastomeric waterproofing membrane. This means that it creates a stretchy layer that blocks water from penetrating surfaces. After coating surfaces with WP50, SUNDEK can apply any of their decorative coatings on top of it. When used with SunLastic EPC35, it creates a flexible waterproof surface.
Where is it used? Among other surfaces, SunLastic WP50 is most often used on outdoor decks. Because it protects surfaces from water damage, it has been used below computer access floors and mechanical equipment rooms. Contractors have even used it on projects to provide a layer of protection below materials like tile or marble.
What makes it special? Unlike waterproofing sheets, this material is easy to apply over irregular shapes, and the membrane adheres tightly to surfaces. Because it's a thin film, it doesn't interfere with elevations. SunLastic WP50 is also VOC compliant.
What is it? An extremely flexible, rubber-like liquid. It's mixed with a cement-aggregate blend to create a water-retardant coating that is resistant to abrasion.
Where it is used? Balconies, decks, floors that need to be skid-resistant, parking structures, pool decks, sidewalks, walls, and more. It's also used as a resurfacing and restoration coating for surfaces made of concrete and masonry.
What makes it special? Even though EPC35 has a thin profile and is flexible, it's resistant to abrasion. It doesn't have a toxic odor. Additionally, our customers like that it's affordable and slip resistant.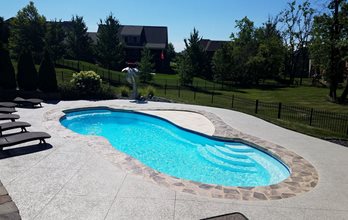 A pool deck resurfaced using SunLastic, featuring two colors and aggregate.
How does SUNDEK apply SunLastic products?
SunLastic WP50 application:
Existing surface is prepped by repairing damage and removing residue and paint.
Coating of SunLastic WP50 is applied.
Additional coating is applied, if necessary.
Decorative coating is applied (if SunLastic EPC35 will be used, this is when it will be incorporated). Multiple coatings are applied if necessary.
Sealer is applied.
Water resistance test is conducted.
SunLastic EPC35 application:
Product is applied to the top of the surface that has been prepared with the WP50 coating.
For heavy traffic areas, another coating is applied.
Sealer is applied.
Water resistance test is conducted.
Contact us about your project
If you have a surface where you'd like to try our waterproofing systems, we can look at your project site and give you a free quote.
Contact your local SUNDEK contractor
Your Local Contractor:
SUNDEK OF WASHINGTON
14121 Parke Long Ct. #109
Chantilly, VA 20151