Get the Look of Wood & the Durability of Concrete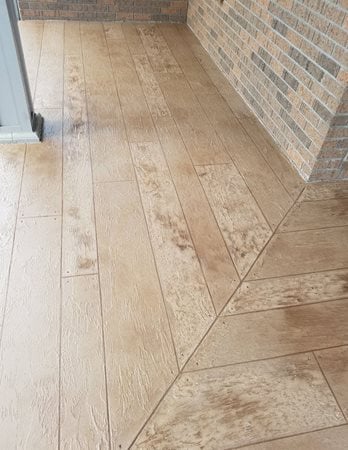 In Ohio, Suntastic Surfacing, Inc. used SUNDEK products to create this decorative concrete floor that could easily be mistaken for real wood.
For a long time, wood has been a beloved flooring material for homeowners and business owners alike for the warmth it adds and the classic look it brings to a room or outdoor space. Sometimes, though, real wood flooring isn't the right solution for the space.
Get a Free Quote
Visit the Tuscan Woodplank Photo Gallery
In this patio area at a home in San Antonio, TX, SUNDEK of San Antonio used stamping to create the look of real wood by creating a grainy texture and customizing the color.
In fact, real estate agents have seen a recent drop in interest in hardwood floors. "Real wood that can have expensive problems when damaged," Jeff Lichtenstein, founder and president of ECHO Fine Properties notes in this article by writer Lauren Wellbank on Apartment Therapy.
If that's the case, you can opt for concrete floors that are designed to look like wood floors. Here are some of the reasons people choose decorative concrete floors with a wood appearance rather than real wood floors:
Durability. With the proper sealer applied, a decorative concrete floor is resistant to general wear and tear from frequent use, scratches, and damage from moisture. Wood floors, however, are subject to scratches from pets or furniture being dragged on it, chips from heavy objects falling on it, and warping or buckling from moisture.
Longevity. High-quality wood that's well cared for will last a long time, but nothing compares to a properly installed, sealed, and cared for concrete surface. A sealed concrete patio that's outdoors, for example, will surely outlast an outdoor sealed wood deck.
Cost. While it depends on the type of wood you choose for your flooring, the bottom line is that if you choose wood of a high-quality, the materials and cost will be more expensive than hiring a contractor to stamp and stain your surface to look like wood. That is especially true right now since the price of wood has skyrocketed in the past year or so.
Maintenance. Both decorative concrete and wood require upkeep.

With an outdoor wood surface, you'll need to power wash and restain or reseal it every 1 to 2 years or so. You'll also need to address issues such as splintering, warped boards, loose nails, and any damage that has occurred from rot or molding.
With an outdoor decorative concrete surface, you'll need to reseal it every 2 years or more—depending on how it's used and where it's located (and whether it has a lot of exposure to the elements). You'll also need to remove debris from the surface every so often, and power-washing might be needed if you have spots that have been sitting for awhile and are hard to remove.

Design options. It's hard to beat the look of real wood. But when working with decorative concrete, the customization options are endless. Rather than being limited by the wood available, decorative concrete gives you the ability to get the exact size, texture, and color you want.
See more pictures of decorative concrete floors made to look like wood.
How does SUNDEK achieve the look of wood?
Our contractors use our Tuscan overlay, hand-troweling every installation to create the perfect look for any location. We use various techniques such as custom scorelining to get the desired texture.
Looking for a contractor to work on your surface?
At SUNDEK, we have crews around the country trained to create the perfect decorative concrete surface for your location.
Projects:
2022 Project of the Year
Parquet wood plank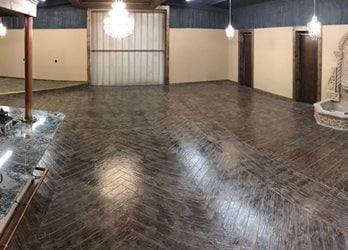 Resurfaced Barn Floor Becomes an Elegant Surface for Events
Wood plank herringbone effect
Reference:
Wellbank, L. (2022, Feb 2). 6 Types of Flooring on Their Way Out, According to Real Estate Agents. Apartment Therapy. https://www.apartmenttherapy.com/flooring-on-way-out-37032347
Your Local Contractor:
SUNDEK OF WASHINGTON
14121 Parke Long Ct. #109
Chantilly, VA 20151