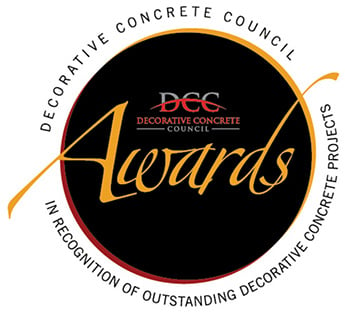 Decorative Concrete Council Awards Two Sundek Projects in 2022
At the Decorative Concrete Council (DCC) Awards Ceremony on Thursday, September 29, 2022, two SUNDEK projects were recognized in the Cementitious Overlays – Under 5,000 square feet category.
In first place, the eye-catching pool deck at an Aloft Hotel in San Antonio, completed by SUNDEK of San Antonio. A gorgeous sunburst design executed with clean lines and vibrant colors make this project a standout.
In second place, a stunning entrance to Wayne State University's basketball stadium, completed by SUNDEK National Accounts. A combination of the right products and careful attention to detail resulted in a surface that mimics the look of a real basketball court.
The DCC Awards program seeks to recognize outstanding decorative concrete project around the world.
Your Local Contractor:
SUNDEK OF WASHINGTON
14121 Parke Long Ct. #109
Chantilly, VA 20151