Summer is Here! Did You Finish Your Spring Cleaning?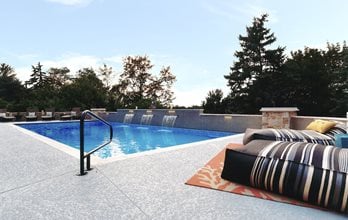 Keeping your SUNDEK surface clean will help maintain its appearance year after year.
Whether you're a homeowner or business owner, it's time to spruce up your outdoor space. Fortunately, SUNDEK sealers and finish coats make cleaning a breeze.
Surface Cleaning Instructions
Here's some advice on how to deal with Mother Nature's winter and spring "leftovers."
1) Sweep or blow off debris. The aftermath of winter and spring is often lots of leaves and dirt on surfaces. Before you get into the deep cleaning, remove it from the surface with a broom or leaf blower.
Note: Completing this step every so often during winter and spring makes your spring cleaning tasks much easier.
2) Hose down the surface Using a high-pressure hose nozzle, get rid of the next layer of surface grime. This can also be done with a pressure washer, but if you don't own one, a regular garden hose and your thumb will suffice.
3) Perform basic cleaning. While the surface is still wet, use a cleaner to get your surface sparkling clean.
SUNDEK has a complete line of concrete cleaning products that are specifically designed for this job and can be purchased from your local SUNDEK dealer.
Find a local SUNDEK contractor
There are also several household options such as Simple Green, TSP, and Oxyclean (these are not the only options, just examples of products available.)
Note: Avoid using detergents and soaps like Tide. These products leave a soapy film that can make the surface slippery, and they're a magnet for future contaminants.
4) Clean the nooks & crannies. This step requires a little elbow grease. Use a stiff-bristled broom and work the cleaning solution into all the nooks and crannies. Let the solution sit for a few minutes, but don't let it dry.
5) Hose down the deck again. Thoroughly rinse the area using a good spray nozzle, then rinse again until all the cleaner is removed. A hose does work fine for this step, but a pressure washer will really dig in and remove a lot of embedded material.
Caution: If you're using a pressure washer, avoid spraying wood decks and other nearby surfaces to avoid damaging them. If you want to rinse or lightly clean other fragile surfaces, turn the air pressure down low and be careful as you go. SUNDEK surfaces can handle much higher pressures than many other materials.
6) Perform a mildew and mold treatment. You can treat your deck with off-the-shelf products that are specifically formulated for mildew and mold removal. Let the solution soak on the affected area for 5 to 10 minutes before removing it with a broom or water pressure. Heavy buildup may require repeated applications.
Want to make mold and mildew treatment yourself? Simply mix three parts water to one part pool chlorine mix.
Note: Always use caution when working with any chemicals and be sure to properly store it and dispose of it.
7) Address hard water and vegetation stains. These spots are the most difficult to deal with. There are many stain removal products on the market that do a decent job, but make sure they are formulated for your surface. Your SUNDEK representative can help you determine what product is right for your surface.
Always follow the manufacturer's directions, take safety precautions, and be mindful of surrounding vegetation.
Get more information about cleaning your concrete surface.
Does your sealer need to be reapplied?
Having a high-quality sealer on your surface is the best possible way to protect it from permanent damage or stains. If you had a sealer applied when your surface was first installed, it may be time for another coat.
How often you reapply your sealer depends on a variety of factors such as exposure to the elements and other things like chlorine or sprinkler spray. Discuss with your SUNDEK representative to figure out when you should reapply your sealer.
Learn why sealers are important.
Do It Yourself or Hire Us
Bottom line: the cleaning needs to be done so your surface stays looking great! You can do spring cleaning yourself, but if you don't have the time, contact your local SUNDEK installer. We'll come out give you a quote on what it will cost for us to clean it.
If you have an older SUNDEK installation, discuss getting a free quote for an Extended Warranty so you can make sure your surface looks great for years to come!