An Important Letter to SUNDEK Nation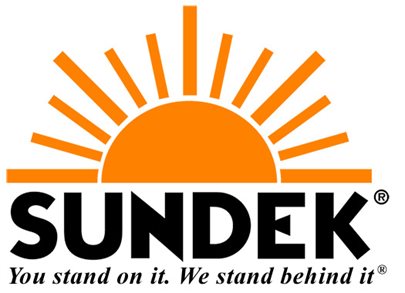 Dear SUNDEK Nation,
With the many changes happening here at Sundek, we wanted to take the time to communicate what's changing, and—equally important—what's staying the same.
What's changing?
With the recent change in ownership, we've evaluated and established new goals for Sundek while keeping in mind the future of the company and everyone involved.
Here are some areas that we're currently concentrated on:
Growing our customer base in the commercial realm.
For many years, we've been focused on residential projects. We've excelled in that area, and our work on residential properties won't ever stop. But now we are also heavily directing our attention to commercial projects.
The results of those efforts have already come to fruition in many ways including the mile-long stretch of boardwalk at Virginia Beach that a crew of about 25 people just completed. A stark contrast to sending a couple people to resurface a small backyard patio. Completing these high-profile projects means exposing more people to our quality work. "We're hoping that everyone is going to be able to see the dynamic work we can do," says Deidre Dann, Sundek's Director of Commercial Sales.
It's important to note that no matter the scope of the project—whether it's a 600-square-foot pool deck at a residential property or a complex design at the entrance of a university stadium—we're proud to always provide the same great service we've delivered for more than 50 years.
Growing our product line.
Members of the Sundek team have always had the enthusiasm and creativity needed to take project requests and make them happen. We think the way Alberto Albanelli from Albanelli Cement Contractors described Sundek sums us up well, "If it can be done, they can do it."
By expanding our product offerings, though, we're increasing the types of services we can provide customers—giving us more opportunities to say yes to exciting projects. This has opened the door for us to pursue new types of installations such as burnishable polishing, waterproofing and pedestrian walking surfaces, all while improving our existing lines. "This allows us to expand into a world that we really haven't been able to touch before," Dann says.
We're putting a strong emphasis on research and development so we're always up to date on what products work best and what potential customers are asking for. "We're uniquely positioned as a company who sells products and also uses those products," says Sundek's VP and Chief Financial Officer, Marshall Seavers. We can see firsthand what works well and what doesn't—and then adjust accordingly.
Bringing on new dealers.
We want people all over the country to have access to Sundek, and we know that bringing on more dealers is the way to do it. "There are states we've never been in or been in and out of that have a lot of customer base that we can touch," say Lori Snider, Sundek's Director of Marketing & Dealer Recruitment.
In the past 18 months, nine dealers have joined the Sundek family, allowing us to expand our services around the country:
Alford Home Solutions in Saint Albans, WV
Sundek by Bluegrass Concrete Coatings in Wilmore, KY
Dean's Landscaping in Schererville, IN
Sundek of Charlotte in Matthews, NC
Team Red Coatings in Greenville, TN
Terracrete, Trinidad in West Indies
Sundek of the Ozarks in Springfield, MO
Cisneros Decorative Concrete in Bakersfield, CA
Gorges Coatings in Wichita, KS
Although we've had a significant amount of interested dealers reach out to us, we're not sitting idle and just waiting for them to seek us out. "We've been far more proactive when it comes to finding potential contractors to work with us," says Sundek's Director of Operations, Lily Herrera-Arias.
What can you expect to stay the same?
We're fortunate to build on a great foundation: 50 years of success in the construction industry. Here are some of the great characteristics of our company that we strive to maintain:
We remain dedicated to providing great customer service.
For the past 50 years (plus some) Sundek has had a reputation for striving to make sure our customers are happy, and that won't be changing anytime soon. As President/CEO Don Snider says, "Our products are superior. But our service that we provide is unmatched."
The customer service experience begins when we first talk with a potential client until even after the job is done. In between, our team is dedicated to figuring out how to deliver what the client wants which often means creating many iterations of samples, helping clients finalize their design choices, being flexible with delays, and more.
We're committed to growing our team members.
Making sure staff feels supported and encouraged to pursue what they're interested in is immensely important to us. We just finished a 12-week program of leadership courses for some of Sundek staff, and that is just one example of the many ways we're providing opportunities for employee growth.
With that said, every employee gets to decide what they want to become, and we don't seek to push people in a direction they don't want go. Instead, we want to provide opportunities for growth where it's desired.
We strive to support each other.
It's always been the case that if someone on the Sundek team needs help, another Sundek team member steps in. That mentality applies to everyone in Sundek Nation—dealers included. When it comes to our dealers, Sundek's VP and Chief Operating Officer Doug Snider wants to convey a clear message: "We want to train you, equip you, give you good direction, and clear your obstacles."
Our open-door policy
At Sundek, we have our external customers to support, but equally important to us is our "internal customers"—that's you. And just as we're transparent with our clients during a project, we want to be transparent with our team. With that in mind, we encourage you to reach out with questions, ideas, and suggestions as they arise. It's through collaborative spirit that innovation and great work happens.
Thank you for taking the time to learn more about where we're headed. We look forward to continuing this journey with you!
Sincerely,
Amanda Fuller, Director of Manufacturing
Deidre Dann, Director of Commercial Sales
Lily Herrera-Arias, Director of Operations
Lenny Sabin, Controller
Lissette Martinez, HR Generalist & Office Administrator
Lori Snider, Director of Marketing & Dealer Recruitment
Don Snider, President/CEO
Doug Snider, VP/Chief Operating Officer
Marshall Seavers, VP/Chief Financial Officer
Robert Hendren, Financial Advisor