SUNDEK Training Event Coming in October
In October, SUNDEK installers will meet to discuss products, sales, and more at a collaborative event led by SUNDEK's Director of Training & Technical Support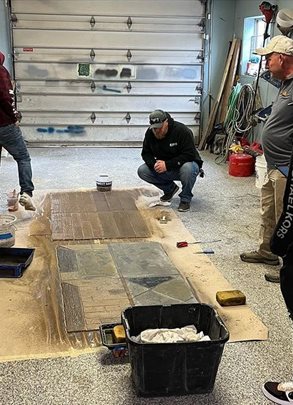 Interested in meeting with other Sundekers to get info about products, collaborate on sales ideas, gain ideas for your business, and more? Kevin Toczek, Director of Training & Technical Support, will lead a training event for SUNDEK installers to learn and share with one another this October.
Where: Gold Coast Surfaces in Palm Beach, Florida
When: October 13, 14 & 15, 2023 (begins at noon on Friday and ends at noon on Sunday)
Accommodations: Contact Kevin as soon as possible for information about accommodations. SUNDEK will get a group rate at a nearby hotel.
Topics covered:
Working schedule is as follows:
Wood plank
SunCoat
PolyCoat
This event is customized for attendees. Contact Kevin with information about what you'd like us to cover at the event ([email protected] or 682-300-1206). So far, wood plank and SunBurn are two of the many products that will be discussed.
An agenda will be provided to all attendees 1 to 2 weeks before the event.
Additional information: Though this is a structured event, it's not a typical training—fluid conversation is encouraged. In addition to discussing specific products, we'll discuss sales, successes and challenges installers are seeing out in the field, and new products and information coming down the pipeline.
"It's more than a typical training," notes Kevin. "It's about networking, making connections, and fine-tuning your skills, too."
If you have questions about the event, reach out to Kevin Toczek:
[email protected]
682-300-1206