SUNDEK's Website Wins Award
Sundek.com was awarded Best Construction Mobile Website for 2021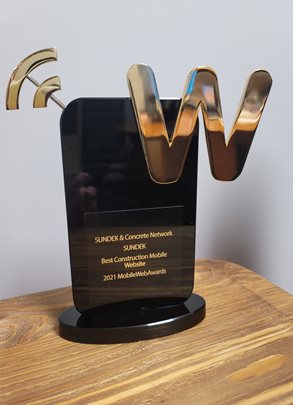 This year, the Web Marketing Association (WMA) held their annual MobileWebAwards and awarded Sundek.com with Best Construction Mobile Website.
In 1997, the WMA was established to set standards for Internet marketing and development of websites. The WebAward Competition, which has been going on for nearly 25 years now, names the best websites in more than 90 categories. Entries are reviewed by industry leaders who dedicate their time to making the MobileWebAward Competition happen. This year, for example, one of more than 80 judges was Heath Row, Operations Manager at Google.
For the past 8 years, the WMA have separated out the mobile awards, as there's a different skill set required to shine in this area.
Over the past 2 years, SUNDEK and Concrete Network have collaborated to create a dynamic website at Sundek.com that provides information to both commercial and residential customers. Through our website, we strive to educate customers and provide visuals that show the artistry our crews are capable of. To top it off, our website is optimized for any device—including mobile. We are continuously updating the content on the site to ensure it stays fresh and optimizing the user-interface so it remains sleek and easy to navigate.
With our award in the Best Construction Mobile Website category, SUNDEK is proud to be among the ranks of GEIKO who won Best Insurance Mobile Application; Yamaha, Best Automobile Mobile Website; Citizen's Bank, Outstanding Mobile Website; and Nissan, Outstanding Mobile Website.
We are thrilled that our work has been recognized by the WMA and plan to continue our work on the website to further enhance the experience for existing and potential customers.
Your Local Contractor:
SUNDEK OF WASHINGTON
14121 Parke Long Ct. #109
Chantilly, VA 20151