How SUNDEK Got Its Start
Former Vice President Frank Lewis (now retired) shares how a few guys in the rodeo circuit started SUNDEK, a company at the forefront of the concrete coatings industry.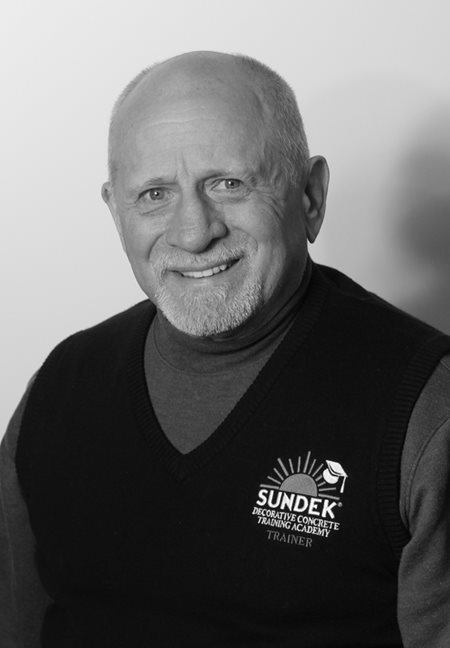 Frank Lewis, former SUNDEK V.P.
Origin story
Growing up, Frank Lewis—former Vice President of SUNDEK—lived down the road from SUNDEK founders, brothers Les, Mark, and Stan Stambaugh. Together, the four men got into riding horses and even joined the rodeo circuit for a time.
A rodeo cowboy on the side, Les also worked construction. One day, while on a job site re-stuccoing houses, someone accidentally dropped some stucco onto the ground. Experimenting, Les troweled it down. It was this event that led Les to begin thinking about concrete coatings.
At the time, polymer modified cement was around, but it was only being used as a repair agent. It was the Stambaugh brothers who first used it as a coating on existing concrete surfaces. They decided to take their business—then known as "Superdeck"—to Southern California. (The company would later change their name to SUNDEK when there were some legal naming issues. Les worked with trademark consultants and attorneys to establish the name SUNDEK.)
When Lewis, a carpenter at the time, ran into Les in California, Les invited him to come to Palm Springs to see a swimming pool he was working on. He was intrigued by what he saw. On top of that, he loved the location. "Wow. Palm trees, movie stars, golf courses…I'm all in," Lewis recalls thinking. It was sometime in 1970 to 1971 when he became SUNDEK's Palm Springs sales rep.
Early hurdles
When the company started, there wasn't anyone else doing comparable work. Lewis recalls that a well-known concrete coatings company was around, but they only did coatings on top of new concrete—not existing concrete surfaces. Another company in the Los Angeles area specialized in epoxy rock coatings on new concrete. So, as Lewis describes, there was only one major "competitor" when they first got their start: people telling them that it couldn't be done.
Potential customers simply didn't believe that you could put coatings on concrete. To overcome that, SUNDEK just worked diligently. They continued working on whatever jobs they could, and the product and work spoke for itself.
Leaving no unhappy customers behind
"Customers saw integrity on our faces," says Lewis. At the time, the company had the strongest warranty in the industry and always backed it up. "When you start off new, the only thing you have to offer is your integrity and your honesty," adds Lewis, noting that this is an important thing for any new entrepreneur to keep in mind. People began to see that the product and process worked.
Les didn't have a degree in chemistry, but "he was bright," says Lewis, adding that he had a great business mind, too. Taking the product they began with, Les tinkered with it until they developed the quality product SUNDEK has today.
Big breaks
As a new salesperson, Lewis was responsible for generating work in the Palm Springs region. At the time, he was newly married and had a baby on the way, so he was looking for a big get. Through conversations with Gene Autry's brother-in-law, Lewis got the job to resurface the pool deck at the Autry Hotel (now known as The Parker) in Palm Springs. The job was part of what propelled SUNDEK's reputation as a reputable contractor who does quality work.
With Les doing sales and office management, Stan managing the field, and both Mark and Lewis focused on sales, the company reached a point where, as Lewis describes, they "owned" the Southern California market. But things were about to get bigger.
SUNDEK's expansion
Anthony Pools, a custom pool builder with locations across the United States regularly called on SUNDEK for projects in Southern California. Their representative who dealt with national projects saw potential in SUNDEK (still Superdeck at the time), and suggested that the company could expand beyond the Southern California region by placing dealers across the country. That's when the core SUNDEK team at the time got in touch with Charlie Plunk in the Dallas area, and the dealer network was born.
Maintaining a successful business with a family culture
"This company was built on trust," says Lewis, speaking to the way the company has built rapport with customers over the years by always standing by their products and leaving customers satisfied. "The Stambaugh brothers always treated others the way they would their own family. At SUNDEK, I think we've always been a family."
Listen to the full interview.
Your Local Contractor:
SUNDEK OF WASHINGTON
14121 Parke Long Ct. #109
Chantilly, VA 20151