What it Takes to Build a Strong Customer Base
Bob Miller shares strategies for making connections that result in jobs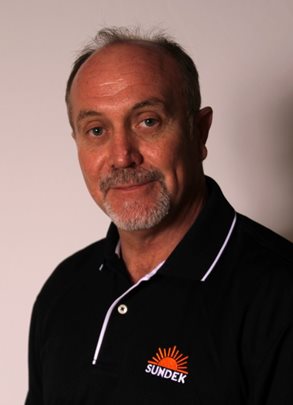 Bob Miller, SUNDEK of Washington
Known for generating substantial residential and commercial work, Vice President and general Manager Bob Miller with SUNDEK of Washington has become somewhat of a celebrity in the SUNDEK sales world. To gain insights, SUNDEK's Vice President of Marketing Tonia Primavera interviewed Miller about his sales strategies. Here, we share some of the highlights.
Be a solutions provider
Miller credits much of the work he's generated to being someone people can count on to provide a solution to a problem. "People like good people that provide solutions," he says. "If you can get yourself into that realm of being a solutions person, people are going to call you."
Here are several ways SUNDEK salespeople can work toward being solutions providers:
Listen to clients. When a potential client is telling you what they need, listen carefully. Set your own script aside and don't interrupt. When you fully understand what their needs are, that's when you can really help.
Know the possibilities of your product. If a client is asking for something specific that you can't do, think about how what you can do will work for their project.
For example, Miller recently got a call from a potential client who was adamant about wanting a stamped concrete patio. After some discussion, Miller realized that she didn't know about overlays. Rather than just saying that SUNDEK doesn't do stamped concrete, Miller explained stamped overlays and the possibilities with SunStamp—and how the product would work for her particular project. After learning about overlays, the client said that was what they wanted. The takeaway is that while the client knows what they want the result to be, they don't necessarily always know how to get there. That's where your expertise comes in.
Know the limitations of your products. If it doesn't sound like a SUNDEK product is going to work for what the client wants to do, don't misrepresent what you can do for them. "If you have green paint, don't tell them it's red paint," Miller says. "It's green paint. And if they can't use green paint, tell them 'Sorry, I can't do this. Next time, I'll see what I can do with you." This is how you build trust with clients.
If you can't help them, point them in the direction of someone who can. "I have no problem giving a client a competitor's name who does something we don't," Miller says. Initially, hearing this suggestion seems counterintuitive, but Miller points out that the client will remember you as providing a solution—which will make them more likely to contact you in the future.
Use rejection as an opportunity
You will not get every project you bid on. No matter what you're selling, competitors are out there. While it's inevitable to feel disappointment when that happens, use the experience as an opportunity to build a relationship that might result in a job down the line.
To do this, Miller advises circling back around to clients who didn't choose you for the job. "Reach out and tell them, 'Thanks for considering me,'" suggests Miller, "and ask them to keep you in mind for their next job." Remind them of other services you provide. Your cordiality will make an impression.
Miller commented that newer salespeople tend to write off potential clients who have rejected them. "I can tell you through my history, though, that I probably do more business with people who rejected me in the beginning than with anybody else," says Miller. Continuing a relationship despite rejection will set you apart from other sales professionals.
Meet people
Connections with people not only leads to jobs but also awareness about what's going on in the industry. Here are ways Miller has made his connections over the years to create what he refers to as a "chain" of people.
Visit job sites. "In my younger days I was known for stopping at every site," says Miller. "Every time I saw a hole in the ground, I stopped and asked, 'Hey, what are you doing here?'"
It's a small circle of people in the construction world, so you end up running into the same people over and over, Miller notes. Sometimes he'd run into people two to three years after initially meeting them and they'll say, "Hey, you're the SUNDEK guy, right?" After you've planted a seed, they'll think of you when a job comes up that you can do for them.
There's another benefit to visiting those construction sites. You're obviously not going to get them to specify your product because they already did that 6 months ago. "But I'll stop by the trailer and say, "Hey, can I take a look at your plans?" Miller says, emphasizing that salespeople need to know how to look at plans. "If you don't know how to read blueprints, it's time to learn," he adds. There are lots of services out there that you can pay for that provide job plans and bids to study. Plus, Miller suggests that by looking at the plans you can also get the name of the landscape architect for the project and add them to your radar.
Collect business cards. While he's out and about meeting other people in his industry, Miller (a self-described "card-collecting fool") always asks for a business card. Asking for someone's card opens the opportunity for you to pass yours along, too. Don't stop at just taking the card, Miller adds. He suggests taking notes on the card after meeting someone. Writing down details such as the name of the office receptionist or a specific topic of conversation you had with the person you met will pay off later.
If there's a slow day, Miller passes along business cards to his sales team and has them visit any companies he hasn't seen since their initial meeting. It's just one more way to stay in touch and stay in front of other people so they think of you when needs arise.
Attend and participate in industry events. There are many ways to network and get your name out there in the industry, and just one of those ways is through Lunch & Learns hosted by architecture or building firms. They go by other names, too—they used to sometimes be called "Lessons Learned," and people nowadays sometimes call them "Coffee & Learn"—the point is, people are gathering and learning something new.
As Miller describes, Lunch & Learns are just what they sound like: a hosted lunch where an expert in the field teaches about a topic. Various firms host them to learn more about what's out there, and in the case of architects, they can get points required to maintain their memberships with the American Institute of Architects (AIA).
Miller recommends visiting firms and asking if they have a Lunch & Learn program or something similar. If they do, ask to see their schedule, and inquire about getting on it. Sometimes these events are booked out quite a bit, and you might not be able to get on the schedule until a date that's six months out—but at least you're on the schedule.
Creating a great presentation for one of these events is a good way to get the word out about SUNDEK. A lot of people feel nervous about doing something like this, but keep in mind that you're the expert on the topic, and, as Miller notes, "No one in the room will know more about SUNDEK than you." There's also nothing wrong with saying that you're not sure about an answer and getting back to someone later (but be sure to follow up).
After each of these events, Miller follows up with all attendees via email to say thanks for coming. "I've never not gotten something back out of doing one of these," Miller adds, sharing that he almost always ends up getting a project as a result.
Join local industry organizations. In addition to joining national organizations such as the American Society of Concrete Contractors (ASCC), there are many benefits to becoming a member of local groups. It's a good way to get in front of potential clients and collaborators. SUNDEK of Washington is a member of three property management associations since they're in a tri-city area (D.C., Maryland, and Virginia) and a local pool and spa association. They've also been members of building contractor and subcontractor associations. Those are just some examples, but being members of these groups provides good networking opportunities. "After a while, everybody gets to know you and the phone begins to ring," Miller says.
Networking can pay off tenfold. For example, Miller has contacts in property management groups. Knowing that they're working on the budgets in the fall, Miller has contacted people he's gotten to know through those groups, saying something along the lines of, "I understand you have budgets coming up. What do you have in your concrete budget that I can help you with?" Before you can make these types of calls, you must invest the time in building relationships with these people.
Miller points out that joining these groups is easy. "And who doesn't like to meet up with people to have a beer and hang out?" he says.
Invest the time in learning
There are many ways to learn more about your industry. "I'm like a sponge," Miller notes, "I'm trying to learn as much as I can about SUNDEK and new techniques." He also advises salespeople to be open minded to new ideas. Here are just some of the ways he recommends learning more about the industry.
Attend lunch-and-learns or the equivalent event at local firms. In addition to being a presenter at these events, it's important to learn from them, too.
Ask questions. Don't be afraid to ask landscape architects to elaborate on something you're unclear on. That's how you learn. These discussions are often how you get insights on what's trending and what's happening in the marketplace.
Read trade magazines.
Practice patience
According to Miller, patience is key to getting jobs. Networking, putting yourself in front of other people, and asking to see blueprints doesn't get you jobs overnight. But all these things will result in sales in the long-term. People have to get to know you and what you do.
All these actions play a role in "planting the seeds," as Miller calls it, so people know you're there. When someone has an epoxy job come up, for example, they've seen you around and they know what you can do—so you're the one they call. "That's just pure gratification when you get those calls from somebody," Miller says. "'Hey, I met you two years ago, and you did SUNDEK at the time. Do you still do that?'"
Listen to the full interview.
Your Local Contractor:
SUNDEK OF WASHINGTON
14121 Parke Long Ct. #109
Chantilly, VA 20151