SUNDEK's 2022 Convention Moves to Online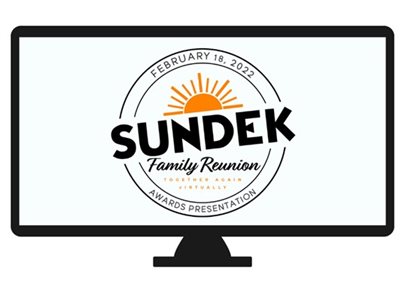 Our 2022 convention, which was previously scheduled to be in-person, has been moved to an online format for the safety of our staff and their families.
After lots of thought, consideration, and discussion with the SUNDEK Dealer Council, SUNDEK leadership decided to cancel the in-person convention for 2022 due to the recent surge in COVID cases—and the predictions for the upcoming spread in North Texas.
Though leadership is disappointed to miss the chance to meet with everyone in person, the health and safety of the SUNDEK family is of upmost concern.
In true SUNDEK fashion, though, we're making the most of the situation. Here's how we plan to still celebrate SUNDEK award winners and deliver the important information that would have been provided at the in-person conference:
Awards. A Virtual Awards Presentation will be held on Friday, February 18, 2022 at 6:00 PM.
Information. Handouts that would have been provided at the in-person conference will be sent to dealer offices for all SUNDEK employees.
Presentations. SUNDEK team members will receive access to several pre-recorded sessions. Look out for these recordings before the Virtual Awards Presentation.
Food! Dealers will receive a SUNDEK Products USA, Inc. Gift Card which can be used to order dinner for staff if you'd like to eat together as a team during the awards presentation. (Lori Snider will send dealers a form to fill out to receive their gift cards.)
Though the circumstances aren't what we'd hoped for, we still look forward to gathering online to celebrate everything the SUNDEK team has accomplished this past year!
Your Local Contractor:
SUNDEK OF WASHINGTON
14121 Parke Long Ct. #109
Chantilly, VA 20151