Epoxy Basement Floor
Basements are sometimes a forgotten space, acting as storage for holiday decorations, unused exercise equipment, or whatever else you want to keep out of sight. And it's a place that's easy to keep out of mind…until you have water damage.
That's why polyaspartic or epoxy floors are the best flooring options for basements. Floors with these types of coatings finished with a high-quality sealer are non-porous. That means they resist water damage from moisture or leaks.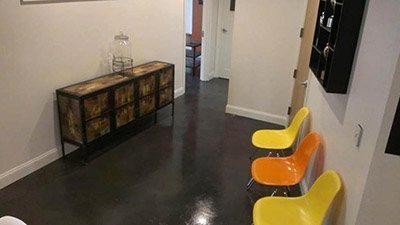 Even if your basement isn't a long-lost forgotten space (maybe you use it as a guestroom, entertainment room, or workout room), epoxy or polyaspartic coatings are still a great option. Since these coatings are often used in garages, they can withstand the weight of heavy equipment and resist stains from oil, grease, antifreeze, chemicals, and more. The sky is the limit when it comes to designing with them, so you can make your basement a beautiful hangout spot with a look you love.
You may have heard of epoxy floor paint. This is different from having an epoxy basement floor. While epoxy floor paint has epoxy in it, making it adhere to surfaces better than regular paint, an actual epoxy floor is a protective layer that is much more durable than paint.
Homeowners are always thrilled to discover that epoxy and polyaspartic floors are incredibly easy to clean. Spills are easy to wipe up since the surface is non-porous, and maintenance requirements include just sweeping and mopping as needed. If there's a tougher stain, non-abrasive cleaner can be used.
If you're interested in learning more about an epoxy or polyaspartic coating for your basement floor, contact us!
Your Local Contractor:
SUNDEK OF WASHINGTON
14121 Parke Long Ct. #109
Chantilly, VA 20151