What are Decorative Concrete Coatings, and How Are They Applied?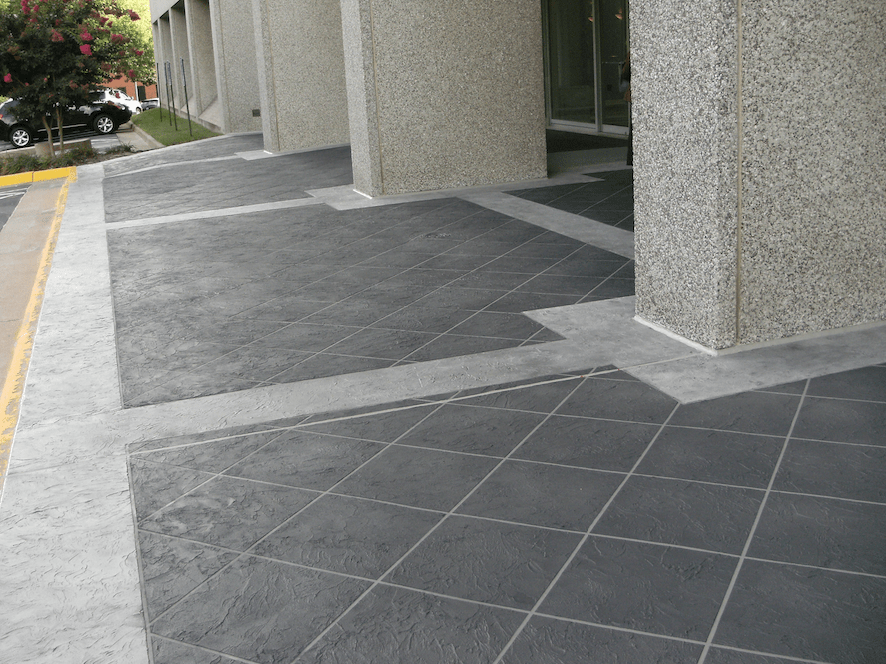 Decorative Concrete Coating Entryway
There is no question that decorative concrete coatings have become one of the most popular flooring solutions used by both home and business owners. Even so, some people are not aware of what these coatings are, the benefits they offer, and the way they are applied.
Decorative concrete coatings are also referred to as decorative concrete overlays. Overlays transform the appearance and functionality of any concrete surface. Although typically applied to floors, driveways, walkways, patios, and pool decks, decorative coatings can also be applied to other surfaces including fireplace surrounds, countertops, fire pits, water features, stairs, and more.
There are a wide range of color options, patterns, and textures to choose from. For instance, a patio floor can be coated to create a marbled earth-tone effect, or a polished surface with the design of a family crest can be installed. When it comes to designing with decorative concrete coatings, the options are endless.
Once concrete coatings are applied, they completely change the aesthetics of the surface. An added benefit is that coatings also make the concrete surface stronger and more durable. They are also last longer than other materials. Anti-slip ingredients can also be added to enhance the safety of a concrete surface. Check out the types of surfaces that we can repair, resurface, and revitalize.
As for the application process, the first and most important step involves preparing the concrete surface. In addition to patching any cracks and eliminating areas of pitting or spalling, a contractor will make sure the surface is level and solid. From there, the surface is cleaned using a manufacturer-approved cleaning product or mechanical process like grinding or shot blasting.
With a clean and dry surface, decorative concrete coatings are prepared, adding any pigments, color, or anti-slip ingredients. The coating is then applied using the appropriate technique (sprayed, rolled, hand-troweled, etc. Once the entire surface is covered, it is allowed to cure and dry.
After the first coat is ready, a second coat is applied. Once again, this coat must properly cure and dry. To protect newly applied decorative concrete coatings, it is imperative to apply a sealer. Depending on the desired aesthetic and effect, the sealer can be colored or clear. Find a local dealer today!