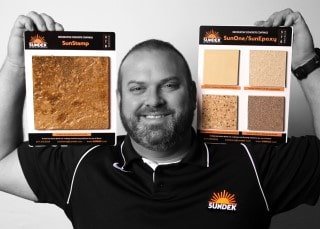 Sundek installers are some of the best trained craftsmen in the decorative concrete industry.  We take every possible measure to provide our installing crews with the proper tools, quality materials and accurate customer preferences regarding the job to insure a smooth flow of work and a quality finish at your home.
Over the years, and after having worked with thousands of customers, we have found that to insure a seamless installation process, it requires an open and cooperative relationship between our local Sundek Dealership and you, the property owner. Quality communications are key – in both directions.
No doubt you are excited to have Sundek installed.  Here are a few suggestions to insure a smooth and timely experience:
Agreed Upon Scope of Work – It is important to choose your pattern and colors with your Sundek sales person well before the target start date. This information will be clearly documented in your contract and signed by both parties. Why is this important?

Color is one item that seems to get left undecided until the last minute and may cause a delay in your job's progress.
I suggest that you plan to make your decision and partner with your Sundek sales representative at least a week prior to the scheduled start date.
This allows our production manager and the installation team enough time to insure that the correct materials are on hand for your project.

 Clear the Space – I ask my clients to have furniture or other items removed from the work area prior to our Sundek installation crew's start date. This includes dogs- turtles etc. Of course, there may be times when the Sundek crew can be asked to move a few heavier things but for everyone's peace of mind this is something that should be directed the homeowner. It also makes the job go quicker when the crew gets onsite!
Length of Installation – The Sundek installation process varies depending on the scope of work (size of project and type of decorative concrete system selected.)  While we'd love to say that we can direct mother nature's actions, there may be days when weather conditions may also delay the installation process.   During your Sundek installation process, the work area should be off limits to other trade people as much as possible. This includes gardeners and pool service people as well.  To give you an idea of a typical installation,  for classic texture the process usually takes three to four days.  For a classic texture, expect your deck will be:

Power washed by the Sundek installation team.
Any repairs needed to the concrete will be made.
A primer coat will be applied
A base coat which bonds to the concrete will be applied.
The texture coat which provides slip resistance will go on next
 Finally, everything will be topped off with the Sundek acrylic finish coat which provides the final color and ease of maintenance.
Whew!! That's a lot work packed into a short period of time! 

Communicate Along the Way with Your Sundek Team

This includes

your sales representative, the production manager, and your crew leader.  We have some of the most talented crew leaders in the industry who are happy to answer your questions.   Scheduling and any changes to your contract should be directed to your Sundek Sales person or as always call our main office at 877-478-6335.

A Job Well Done! When the job is all wrapped up and ready for your approval – your Sundek Crew leader or Sales person will walk the job with you. This is a great time to answer any questions and complement the Sundek crew for another excellent installation.
The Bottom Line:  Sundek believes feedback is a gift.  We valued our customer's input and feedback on how we can improve our workmanship and your customer experience.  Great communication is the key to a successful project.  Setting expectations early in the contract helps our production team meet and hopefully exceed your expectations.  We look forward to sharing the experience with you!
[button link="https://www.sundek.com/dealers/quote" type="big" color="orange" newwindow="yes"] CLICK HERE to have a Sundek expert contact you about your next decorative concrete project![/button]