Reasons a Concrete Pool Deck Lasts Longer Than Other Paving Materials
With advances in concrete products and techniques, a growing number of home and business owners are choosing a concrete pool deck over pavers. One of the primary reasons is that concrete lasts much longer. The exact number of years a pool deck made of concrete lasts depends on use and abuse. However, even when cracks surface, they are easily repaired.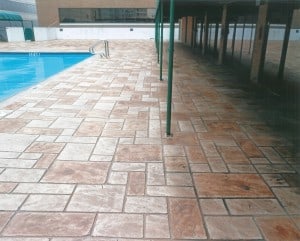 Sundek Concrete System That Can Mimic Real Stone
Keep in mind that you can choose from different types of concrete for your pool deck. However, stamped concrete has become a leading choice. A significant reason this type of pool deck lasts longer than pavers is that it is sealed. Because of that, the concrete is protected from pool chemicals, outdoor elements, and saltwater.
Unlike pavers, which can move and settle if not properly installed, professionally poured concrete is solid. Once set, the concrete will remain in place for many years to come. Beyond longevity, there are a number of other reasons why concrete pool decks are more advantageous than pavers.
For example, you can choose from a broad range of stamp patterns. In coordinating with the style of your home, outdoor patio or kitchen, and even the landscaping nearby, your contractor can replicate a number of looks, including flagstone, slate, brick, granite, and more. With so much versatility, you have the opportunity to create a dream backyard vacation.
You will also enjoy the variety of colors. Typically, a stamped concrete pool deck is designed with two or more colors. This includes a base color, which is troweled or mixed into the surface of the concrete. A second or third color follows in the form of a release agent applied to the surface prior to stamping or a topical coloration applied once the surface is cured. By using a color combination, your pool deck will have a unique look and a great depth of color.
The SunStone decorative concrete overlay is another exceptional choice for your pool deck. This too is strong, durable, and long lasting. Because a concrete pool deck can be slippery, your contractor can add grit, creating a nonslip surface. This ensures that children, as well as adults, do not accidentally take a nasty fall while by the pool area..
A swimming pool is a big investment. To enjoy it to the fullest without worrying about problems, a concrete pool deck is a much better choice compared to pavers. You have a longer-lasting surface and more options to be creative.