An Overview of the Different Decorative Concrete Systems and What They Offer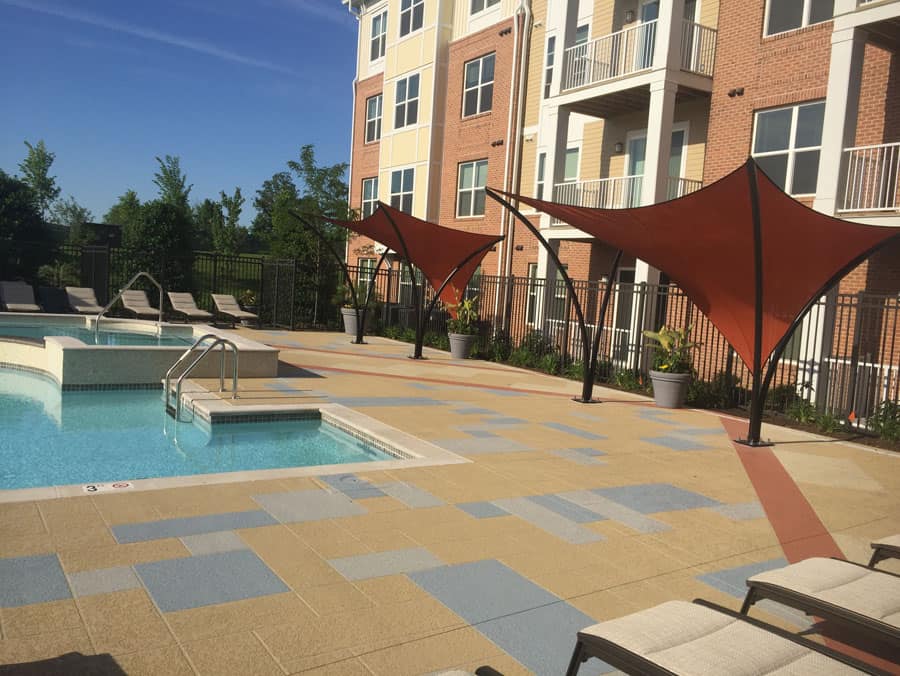 Sundek Decorative Concrete System
Having a huge selection of decorative concrete systems is exciting, each with unique color, texture, pattern, and design options. However, because there are so many choices, you may feel a little overwhelmed when trying to select just one. Even though each system is unique, they are all exceptional. To make the decision-making process easier, it would help to spend a little time learning about the various systems and what they offer. Along with the information provided, you can always speak to a Sundek representative, who will gladly guide you through the process based on your specific needs.
Concrete Stains – You have a choice of water- and acid-based stains, both outstanding decorative concrete systems. The difference between the two is that an acid-based stain penetrates the concrete surface, where it reacts to salts and minerals in the concrete. As a result, the color becomes a permanent component with a one-of-a-kind marbled or variegated aesthetic. A water-based stain does not penetrate concrete, but it produces a gorgeous finish that can be enhanced when blended with several colors. A liquid concentrated dye is also available, which dries quickly and comes in stunning colors.
Decorative Concrete Overlays – Used to repair and resurface existing concrete surfaces, decorative overlays create a new surface that looks gorgeous while being strong, durable, and long lasting. You can stick with the original pattern or design, or the contractor or installer can create something entirely different. A few examples of the best products on the market include Classic Texture, Tuscan, SunStone, and SunStamp.
Polyaspartic and Epoxy – These decorative concrete surfaces are also used indoors and outdoors as strong, durable, long-lasting, and beautiful coatings. For applications where fast curing is essential, polyaspartic is ideal. While epoxy floors are commonly used in garages, service departments, mechanic shops, and various industrial environments, they are a great solution for the interior of homes and businesses, as well. Epoxy floors come in a range of colors and can be enhanced with gorgeous metallic flakes.
Acrylic Finishes – Acrylic finishes, which are another type of decorative concrete systems, produce an opaque appearance. Used for indoor and outdoor applications, these finishes can be applied over various concrete surfaces, including decorative, bare, and textured.
Clear Sealers – While not true decorative concrete systems per se, clear sealers offer a number of benefits. Not only do sealers provide an extra layer for optimal protection, they can be colored to enhance decorative systems in place. These sealers enhance protection against stains, daily foot and vehicle traffic, abrasions, and chemicals.
Your Local Contractor:
SUNDEK OF WASHINGTON
14121 Parke Long Ct. #109
Chantilly, VA 20151