Installing Thin Concrete Overlays
Thin concrete overlays are rapidly growing in popularity due to their ability to fix issues with the existing concrete and add a beautiful finish. Installing thin concrete overlays requires a structurally sound base slab that has a bondable surface, but as long as that requirement is met, you can easily restore a floor by installing one of these overlays. In addition to being used for repairs, thin overlays also work to add decorative elements to a space via stamped, stenciled, patterned, textured, or stained versions.
Preparing the Slab
Thin overlays are typically classified as those that are ¼-inch thick or less. The first step in installing these overlays is to prepare the slab that will sit below it. The goal with preparation is to make sure that the surface doesn't contain any materials that may inhibit the bond, and you will have to prepare to profile to a given depth according to the thickness of the concrete overlay you plan to use.
Choosing the Materials
These overlays will always include cement, polymer, fine aggregate, and admixtures that are a high-range water-reducers. To get the best results, you need the perfect blend of the fine aggregate sizes, keeping in mind that well-graded mixes set better due to the lack of empty spaces between aggregate. Some materials will be designed for use inside, while others are designed for exterior use.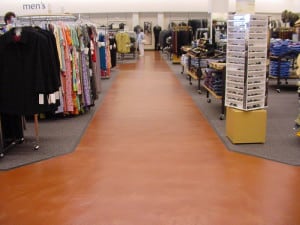 Thin Concrete Overlays
Installation Process
After the slab preparation is done and you have all the materials at hand, it is time to apply the overlay. This can be done with a trowel, a hopper gun, or via a spray. There are also self-leveling overlays that will be placed using a squeegee or a gauge-rake or like terrazzo after mixing with decorative aggregates. During the product mixing, you want to always follow the exact instructions given by the manufacturer. The easiest way to create uniform batches is to measure your water into a bucket, then drill a hole along the side where the water line is. Pay attention to whether your mixture needs to be left for five minutes before being mixed again, a process known as slaking.
Things to Remember
When installing thin concrete overlays, remember that preparing the sub-base is one of the most important steps. In fact, most of the time if the installation fails, it will be due to poor preparation. Make sure that the base slab is surface-dry and doesn't have any standing water.
For an experienced group of certified concrete overlay installers contact Sundek, the leader in thin concrete resurfacing and concrete repair solutions.