Don Snider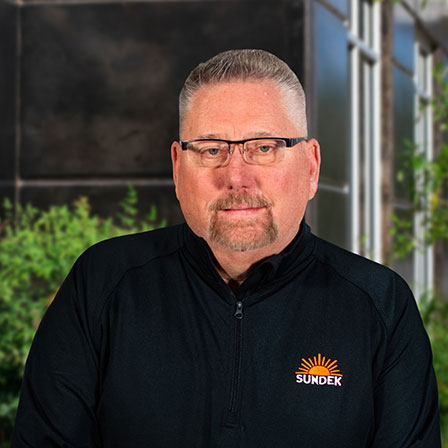 Position: President/ CEO
Don Snider began his decorative concrete journey at the age of 21, fresh out of Vincennes University after studying Architectural & Construction Management. In 1983 Don decided to leave NW Indiana and headed to the Dallas Fort Worth area looking for construction work. Don contacted the Texas Workforce Commission, which directed him to a company listed at the top, All Texas Decks (ATD). Don called the number, and Charlie Plunk was on the other end. Don quotes, "Do you have a driver's license? (Yes, sir.) Then meet me at 7 am tomorrow at the Country Kitchen on Collins Street in Arlington, Texas". That day was the beginning of his long Sundek career.
After 39 years, Don has worked in every aspect that goes into a decorative concrete business—beginning with what Sundeker's call "starting in the bucket." Don was one of the first ATD hires. In 1983 he started as a crew leader installing the product for a couple of years, then was promoted to Field Supervisor, shortly after that promoted to Production Manager, managing eight crews. ATD grew quickly under the ownership and leadership of Mr. Plunk who Don today considers his mentor and dear friend. Within a couple more years Don moved into a Sales role and sold $500,000.00 in his first year.
Another door opened in 1988 to purchase the dealership in Austin, Texas. He and his newly married wife Lori moved to Austin and began to develop the Sundek market in the greater Austin, and Central Texas area. Within 3 years after being told that the dealership would never exceed the million-dollar mark…in 1992, Don & Lori announced to Sundeck Products USA, Inc. that Sundek of Austin (SOA) exceeded 1 million dollars in sales.
By 2007 SOA reached 3 million in sales. Then the call came from Mr. Plunk, "I want you to move back to DFW and work with the Corporate Team and with the Coatings Group to grow the corporate-owned dealerships while expanding the Sundek National Accounts team as the Director of Operations." In 2009, after 5 years Don was promoted to VP of Operations. Today with over 39 years with Sundek, Don along with his two partners, proudly owns the Coatings Group Inc. If Don is not working, he enjoys time with his wife, son, and daughter traveling, backyard cooking BBQ or spending as many days possible on the golf course.
Your Local Contractor:
SUNDEK OF WASHINGTON
14121 Parke Long Ct. #109
Chantilly, VA 20151