Which of the Different Types of Concrete Overlays is Best for Your Project?
There is nothing wrong with variety. However, when it comes to the abundance of options for concrete overlays, you might feel overwhelmed when trying to narrow your choice to just one. To make sure that you select the best overlay for your project, you should spend a little time conducting research. Of course, you can always reach out for help from a reputable concrete installer.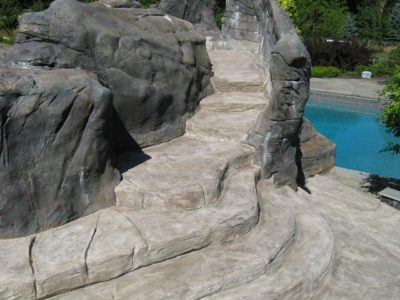 Sundek of Illinois Water Feature SunStamp
Stamped concrete overlays are one of the more popular choices and for good reason. For one thing, this overlay can be used both indoors and outdoors. However, what makes stamped overlays so incredible is that a professional installer can replicate the appearance of various materials, including stone, wood, brick, tile, and more. When finished, no one would even know the surface was concrete unless told. If you want something unique, stamped concrete overlays are exceptional.
Micro toppings are another type of concrete overlay that might fit your project. In this case, you can choose the actual grade, from fine to coarse, and select from a wide range of colors. If your current concrete surface is starting to look worn, instead of having it completely ripped out and reinstalled. Micro toppings are a much better solution. You can even have saw-cut designs added, which makes for a gorgeous floor.
Certain concrete overlays are perfect for horizontal and vertical surfaces. Based on how the overlay is applied, via trowel, broom, or hopper gun, the aesthetic changes. Again, when working with a professional installer you can discuss what look you want to achieve. Made up proprietary blends of sand, polymers and binders, this overlay provides a smooth, yet non-slip surface that makes it ideal for outdoor surfaces, including pathways, patios, and even driveways.
Although the overlay that you choose is certainly important, it is even more important that the appropriate product is used. Something like SunStone, Classic Texture, or Tuscan are all excellent products for concrete overlays.
Your Local Contractor:
SUNDEK OF WASHINGTON
14121 Parke Long Ct. #109
Chantilly, VA 20151