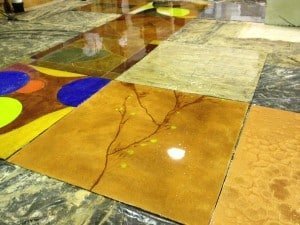 I recently had a customer ask me to help her design a fairly large decorative concrete project. She had no idea of what she wanted the project to look like in the end but she had lots of magazine clippings and how-to books with photos of other jobs. This scenario made me real nervous, you see, when the customer has so many great ideas but no master plan – that means trouble! You wouldn't want a builder to build a house without a blueprint, right? Same thing applies to your decorative concrete product project.
Turn Your Ideas into a Master Plan!
I'm here to help – sort of – I'm calling in a DESIGN CONSULTING EXPERT – Shellie Rigsby Cordell – to share some design fundamentals with you, our Sundek customers.  Shellie is an concrete design industry expert in the area of design and a long time friend to Sundek.  Her work has been featured on the hit television show, Extreme Makeover!
She is a close friend of Sundek and has provided us with this invaluable advice:
"The best way to approach design for decorative concrete is to fully understand the project – its purpose and the intended use. I entirely avoid my own preconceived ideas. I look at everything in the space. What is the scale of the project-the whole project- not just my part."  – Shelllie Rigsby Cordell
Most decorative concrete projects deal with three basic design elements:
Texture   ♦   Pattern   ♦   Color
Shellie has provided some basic design tips dealing with texture and pattern to help you in putting together your master plan!
THEME / DESIGN CONCEPT: We have a great advantage when designing decorative concrete as the overall theme or concept is usually determined long before we invited to participate on the project. The "theme" or design concept really answers all our design questions. It is like the mission statement for the project. When making a design decision, ask if it contributes to the design concept. For example, an urbane, contemporary project will have crisp detail, usually minimalist, but have splashes of color- often vivid color. These "splashes" may even appear chaotic, abstract, and busy. However, they are contained or controlled to specified fields. The clean simplicity allows for a dominant design feature. In this urbane example, a fleur de lis, Celtic knots, a juvenile pirate ship mural or other stylized designs inconsistent with the abstract urbane theme do not belong.

 DESIGN WITH THE END IN MIND. What other finishes, textures, sheens, and patterns will adorn the project.

MACRO VIEW (NOT MICRO). Take in the entire project. A comprehensive design with cohesive style, colors, and feel is essential. Your plan is not just about the floors; it is about the environment you are trying to create.

EXISTING DESIGN ELEMENTS. Look for existing motifs. Is the property a French Provencal design? Look for ornamental iron details in doors, fixtures, railing etc. Have these designs made into a template to engrave, microtop, or metal plate into your work. This is a great feature at an entry or other primary visual space.

WHOLE SPACE BALANCE. No single element should stand out. All aspects should contribute to the whole space. This is not to say that there are not design features. There are. However, even the features should contribute to the whole.

ENDURING DESIGN. The busier, more vibrant, or more stylized a floor or wall is, the more quickly we tire or the design becomes dated.

AVOID VISUAL NOISE. Visual noise is any design element that demands attention or has pattern, color or detail that distracts from the whole space and commands attention disproportionate to its contribution.

QUALITY PRODUCTS & WORKMANSHIP. Perhaps the most important part of design is quality. Well executed work is beautiful. Sloppy work is disappointing. Let's face it, fine cracks and subtle shade variations are character. Footprints in the stain, paint under the stain, and fly ash patterns are not character. If you are scoring a tile or justified stone pattern, straight cuts are the standard not the goal. Choose a contractor that uses quality products and has quality installers.
Our thanks, Shellie!!  You have given us a bunch to think about when it comes to texture and pattern elements in the design of decorative concrete projects.

The Bottom Line:  My advise to anyone who has tons of ideas (but no firm master plan) for their decorative concrete project is to get with someone who can guide you to develop a master plan of what  your end project is going to look like.  Your Sundek sales representative can  partner with you on the design and even provide you examples of projects that have a similar look for what you are trying to achieve  in your space.   If you are still unsure, then follow my philosophy  – "When in doubt and you are in way over your head ask somebody who truly knows."   Shellie, in addition to her individualized consulting services, has a terrific book that can provide you additional guidance!   In our next blog, we will tackle the issues dealing with color (with Shellie's help of course!!)   Happy Designing!!!!
[button link="https://www.sundek.com/dealers/quote" type="big" color="orange" newwindow="yes"] CLICK HERE to have a Sundek expert contact you about your next decorative concrete project![/button]