Decorative Concrete Resurfacing with Sundek Overlays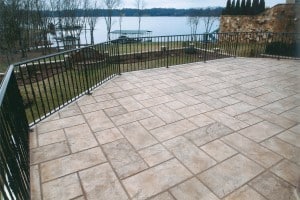 Tile pattern concrete overlay
If you are looking for a building material that offers versatility, durability, and ease of maintenance, you can't go wrong with decorative concrete. With decorative concrete resurfacing, you can bring new life to your old surfaces, customizing the material with whatever color or pattern you choose.
Popular Decorative Concrete Resurfacing Overlays
There is a wide variety of decorative concrete overlays on the market, but no company offers better value or greater variety than Sundek. Below you will find an overview of some of Sundek's top decorative concrete resurfacing products.
Classic Texture – For something simple but effective, the classic texture from Sundek is a great option. This overlay is naturally slip-resistant and nonporous, so it offers excellent durability and stain resistance. It can be combined with other Sundek systems, as well, for the addition of custom color and texture.
SunStone – The SunStone system is a type of architectural limestone coating that can only be applied with hand-troweling by a Sundek artisan. This decorative concrete resurfacing option offers a natural and authentic look without the hassle of tearing out the existing concrete surface. It can be customized to mimic the appearance of premium materials, such as slate, flagstone, and travertine, or your artisan can create a custom pattern for a one-of-a-kind look.
SunStamp – The SunStamp system is a great option for outdoor applications, such as patios, pool decks, and walkways, because it can be applied over the existing surface and customized with texture and color according to your preference. This Sundek system is applied by putting down a layer of concrete and then applying a stamp mat to make the desired impression.
Tuscan – If you want something that no one else has, the Tuscan handcrafted textured overlay may be the way to go. This Sundek system offers the maximum degree of customization because it is applied using hand-troweling and hand-carving techniques. The Tuscan system can be applied to everything from pool decks and patios to walkways and driveways.
No matter what kind of decorative concrete resurfacing method you choose, you can count on Sundek to provide the materials. Sundek is a leading dealer of decorative concrete products, and we have access to a premier network of decorative concrete contractors. So, if you want to make sure the job gets done right, make Sundek your first call.
Your Local Contractor:
SUNDEK OF WASHINGTON
14121 Parke Long Ct. #109
Chantilly, VA 20151