Creating a Unique Look with Acid Stain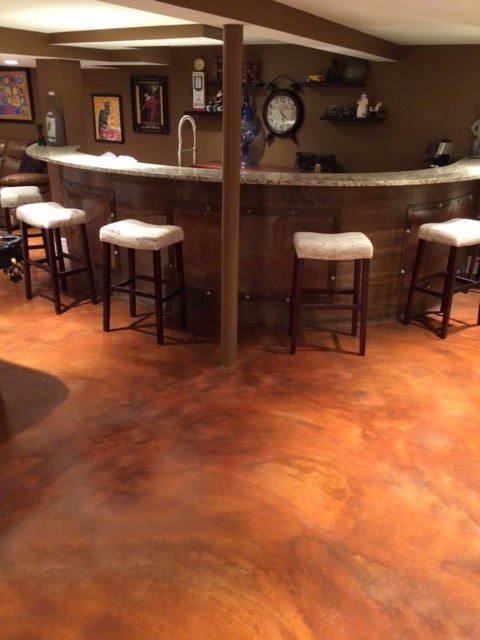 Acid Stain in a basement floor - SunAcid
The main reason why homeowners and business owners love decorative concrete is the fact that it is so versatile. There are a number of different ways to customize decorative concrete surfaces, but using an acid stained concrete is one of the most popular methods to get a unique one of kind look.
How to design and use acid stain - Sundek's SunAcid
There are many ways to customize the look of decorative concrete flooring, but acid stained concrete is particularly popular. Unlike paint, acid stains are designed to permeate the surface of the concrete, infusing it with translucent tones that vary in color depending on the stain used. When applied correctly, an acid stain can transform a concrete surface, giving it the look of premium materials, like polished marble, stained wood or aged stone and rock.
When it comes to stained concrete, you can choose from many colors and blend mix and match all of them to create very unique looks. Acid-based chemical stains work by penetrating the surface of the concrete and creating a chemical reaction with the free lime in the concrete. This kind of reaction infuses the concrete with permanent color that won't chip or peel off. While there can be a little or a lot of variation in color, it does depend on the surface on which they are installed. Some variation will always occur but acid stains are designed to produce natural, earth tones, like brown, tan, and blue-green.
If you are looking for a high-quality acid stain to specify for your commercial project consider the SunAcid system from Sundek USA. This system is a reactive acid stain that can be used to create a translucent, mottled look that becomes a permanent part of the concrete. This stain is applied by spraying, brushing or wiping it over the surface using a variety of acid resistant tools and often an acid resistant pump sprayer. After application, the acid is left to react before it is neutralized and cleaned and then allowed to dry. Once dry, a clear sealer over top is often recommended for protection.
One thing to be aware of when applying acid stained concrete is that the stain will not cover up cracks or flaws in the existing concrete. Again, the stain is translucent, and it can be used to enhance the surface, but it will not be effective in disguising anything. To make sure that your acid stain produces the look you want, take the time to do an onsite sample before the full application is done.