Why Commercial Grade Concrete Coatings Are a Good Choice for Industrial Environments
Commercial grade concrete coatings are unique to coatings used for residential applications. Although these coatings are used in many businesses, they are also a preferred choice for industrial environments, such as factories, warehouses, plants, distribution centers, and so on. These concrete coatings are stronger, more durable, and longer lasting than their residential counterparts.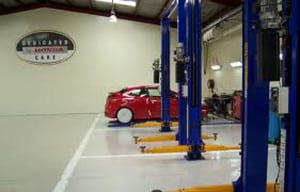 Thin Mil Epoxy Floors
by Sundek Products
Industrial environments are known for their high volume of foot, equipment, and vehicle traffic. The floors in these environments are also subjected to all types of spills, including grease, oil, chemicals, water, and so on, not to mention impacts. For all of these reasons, it is imperative that you choose a commercial grade coating that not only looks nice but also provides flawless service.
Two of the best commercial grade concrete coatings are epoxy and polyaspartic. These coatings provide all of the characteristics mentioned, and more. For something extremely long lasting, SunEpoxy 54 is an exceptional product offered by Sundek Products USA. This thin-mil flooring system is ideal for warehouses, mechanic shops, and light manufacturing facilities.
If you need a commercial grade concrete coating that is even more durable and stronger, SunEpoxy 100 is a great option. This 100 percent solids epoxy floor is formulated specifically as a heavy-duty coating used for tougher applications. There is also SunOne, a polyaspartic coating system. If you need a coating that cures fast to ensure very little downtime, this is the right product.
When coatings are professionally applied, a hardener or sealer can be added for maximum protection. Especially if your facility has a higher than normal volume of traffic or if your workers use a great deal of potentially damaging substances or hand tools, this is important.
Regardless of which type of commercial grade concrete coatings you are interested in, be sure a qualified professional who uses only the highest-quality products performs the work. That way, you have assurance that the floor will perform in the exact way that you need it to.