5 Reasons Staining is Great for Vertical Concrete Surfaces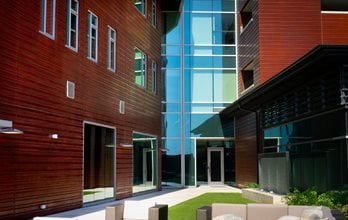 See more pictures of vertical staining projects
When it comes to coloring a vertical concrete surface, staining it isn't typically the first thing that comes to mind, but it's the best option out there. Here are some reasons concrete staining is the optimal approach to adding color to a building, wall, or other vertical surface.
Get a free quote
1. The color options are limitless
Just like any concrete slab, you can stain a vertical concrete surface in just about any color. There are different types of stains you can use for vertical concrete, and each stain type comes in a range of colors.
Acid stains create a translucent mottled look. Minerals and salts in the concrete affect the appearance. Learn about SUNDEK's acid stain, SunAcid.
Water-based stains allow for completely customizable colors that aren't typically available with other stains or dyes. Learn about SUNDEK's water-based stain, SunH2O.
Liquid dye produces vibrant colors and dries quickly. Learn about SUNDEK's liquid dye, SunDye.
2. It's affordable
The cost to stain your surface depends on a variety of factors such as the size of the concrete slabs and the product you use, but it is more cost-effective than painting—especially in the long-term.
Labor costs and product costs vary depending on your location, so the best way to get an estimated cost is to contact a contractor for a quote.
3. Stain doesn't peel
Instead of forming a layer on top of the surface like paint does, stain penetrates the concrete. The color remains for longer and won't chip or peel off.
4. There are a variety of design options.
Staining opens many opportunities for design creativity. Using stain, you can get everything from the look of metal to the look of wood.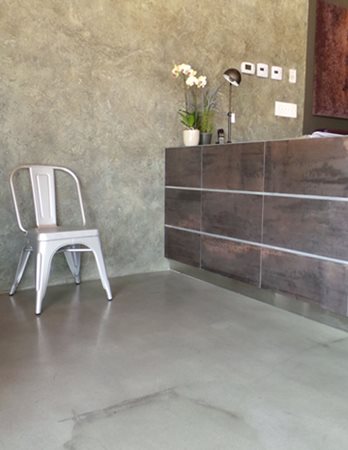 An interior office wall stained by ATD Concrete Coatings in Grand Prairie, TX.
5. Can be used on many vertical surfaces
As long as it's concrete, a vertical surface can be stained by an experienced contractor such as SUNDEK. Here are just some of the types of vertical surfaces we work with:
Poured walls
ICF (insulated concrete forms)
Tilt-up construction
Concrete overlays
Concrete block
Exterior walls
Interior walls
Contact us to find out if your vertical surface is a candidate for staining.
Contractors who stain tilt-up concrete surfaces near me
If you're looking for a contractor with experience in staining vertical surfaces, contact one of our authorized SUNDEK installers for a free quote. We'd love to take a look at your project or project plans and help come up with a solution.
[email protected] (877) 478-6335 Fill out the form on this page
Your Local Contractor:
SUNDEK OF WASHINGTON
14121 Parke Long Ct. #109
Chantilly, VA 20151