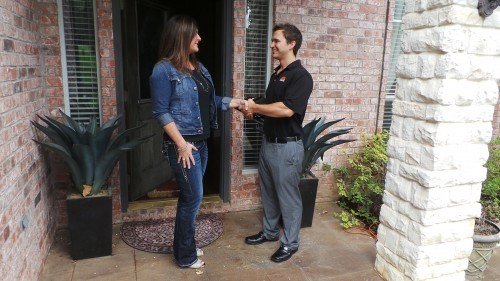 The decorative concrete industry has exploded over the past 10 years bringing with it a new set of challenges in selecting the RIGHT decorative concrete contractor!
The Good News: Terrific products and beautiful spaces to live and work have resulted. As with any type of service, a little preparation in selecting the right contractor WILL make all the difference in your project.
The Bad News: Anyone in a pickup truck and with a trowel can jump into the business with little or no training nor experience.  These "shady contractors" pollute this amazing industry giving it a bad reputation and expose a whole lot of homeowners to major headaches after these knuckle heads are long gone.
DON'T WORRY… I'm here to help you choose wisely! I have found a number of pitfalls to avoid over the years when it comes to hiring contractors (of any type) – but especially a decorative concrete contractor.  Here's my top ten list of what to look for before hiring someone to transform your concrete:


Don't be swayed by slick advertising gimmicks.  The best decorative contractors don't have to do a lot of expensive advertising. They get the majority of their work through satisfied customers' referrals. Consult friends and neighbors who have had work done.  Past superior performance is an excellent indicator for future performance!
Check with the Better Business Bureau or local consumer-affairs agency for complaint histories of the contractors you're considering. If you see one or two complaints it doesn't necessarily mean the contractor isn't qualified. Find out what the situation was. Find out how was the situation resolved – shouldn't necessarily induce you to look elsewhere.  Be wary of a contractor with more problems than that.
No matter how you find potential contractors, be sure to ask for a list of previous customers; then call them or, better yet, visit their projects to look at the work. Ask some penetrating questions such as these:
Would you hire this contractor again?
Were you satisfied with the quality of the work?
How did the contractor handle cleanup each day?
Was the contractor easy to work with?
How did the contractor handle differences and work changes?
Was the job completed on time and at the bid? If not, why not?
Did the contractor representative return phone calls and emails and keep his word?
While licensing and insurance requirements vary from state to state check with the appropriate agency to see if the contractor is properly licensed and insured in your local. As a rule, licensing entails passing a test to measure competency, while registering involves only payment of a fee. If a problem arises, a government agency may be able to pursue a licensed or registered contractor on your behalf. Licensing won't guarantee success, but it indicates a degree of professionalism and suggests that the contractor is committed to his or her job. You usually get what you pay for- mostly!
The same holds true for membership in or certification by an industry group such as the Decorative Concrete Council or other trade associations. This is usually a sign of someone who is in business for the long run and not the quick buck.  It also means that this contractor is invested in the future development of the industry.  To go a step further, is the contractor a member of the council or trade association, or have they served on committees, do they attend the conferences, better yet, have they taken an active role by becoming a leader (key expert) within the organization?
Get a written estimate from at least three contractors. An estimate should detail the scope of work to be done and the length of time the job will take.  Be sure to note what is included and not included.  Once agreed to and signed by you and the contractor, a bid becomes a contract. You can learn a lot about your potential contractor by the details and professionalism in the estimate writing. If he is sloppy in this area he will be sloppy in the work as well – which leads to misunderstanding and hard feelings.
It's not uncommon to pay for a decorative project in phases over the course of the job. Try to limit the down payment to 10 percent or less. Contractors who ask for a substantial amount up front may use your money to finish their previous job or pay for other bills. In some states, it's illegal to require large deposits. Some specialty projects, however, will require deposits such as custom colors or textures requiring a higher down payment.
Throw out the low-ball bid! This contractor is probably cutting corners or, worse and is usually desperate for work. There may be problems later on and you probably won't be able to find them if something goes wrong.  Be especially wary of contractors who offer a bargain price, claiming that they're doing a job in the neighborhood and have leftover materials. I advise my customers to always be wary of anything that looks too good to be true.  
Ask for a warranty! Reputable contractors guarantee their work.  You may even choose to ask for a reference that has had warranty work completed so that you can get a feel for the type of service provided days, weeks, months, and years after the job is completed.
Good LISTENING & Communication Skills:  People are people and the single most important factor in choosing the right contractor for your particular job is how well you and he communicate.  Set good expectations so that the contractor has a clear understanding of your needs and wants for your project.
Bottom Line Advice: 
This list should guide your path to selecting the BEST contractor for your project.  Beyond a high level of technical competence, being comfortable with the contractor and what his company stands for should play an equal or greater role in your final decision.  Go forth and choose wisely!
[button link="https://www.sundek.com/dealers/quote" type="big" color="orange" newwindow="yes"] CLICK HERE to have a Sundek expert contact you about your next decorative concrete project![/button]