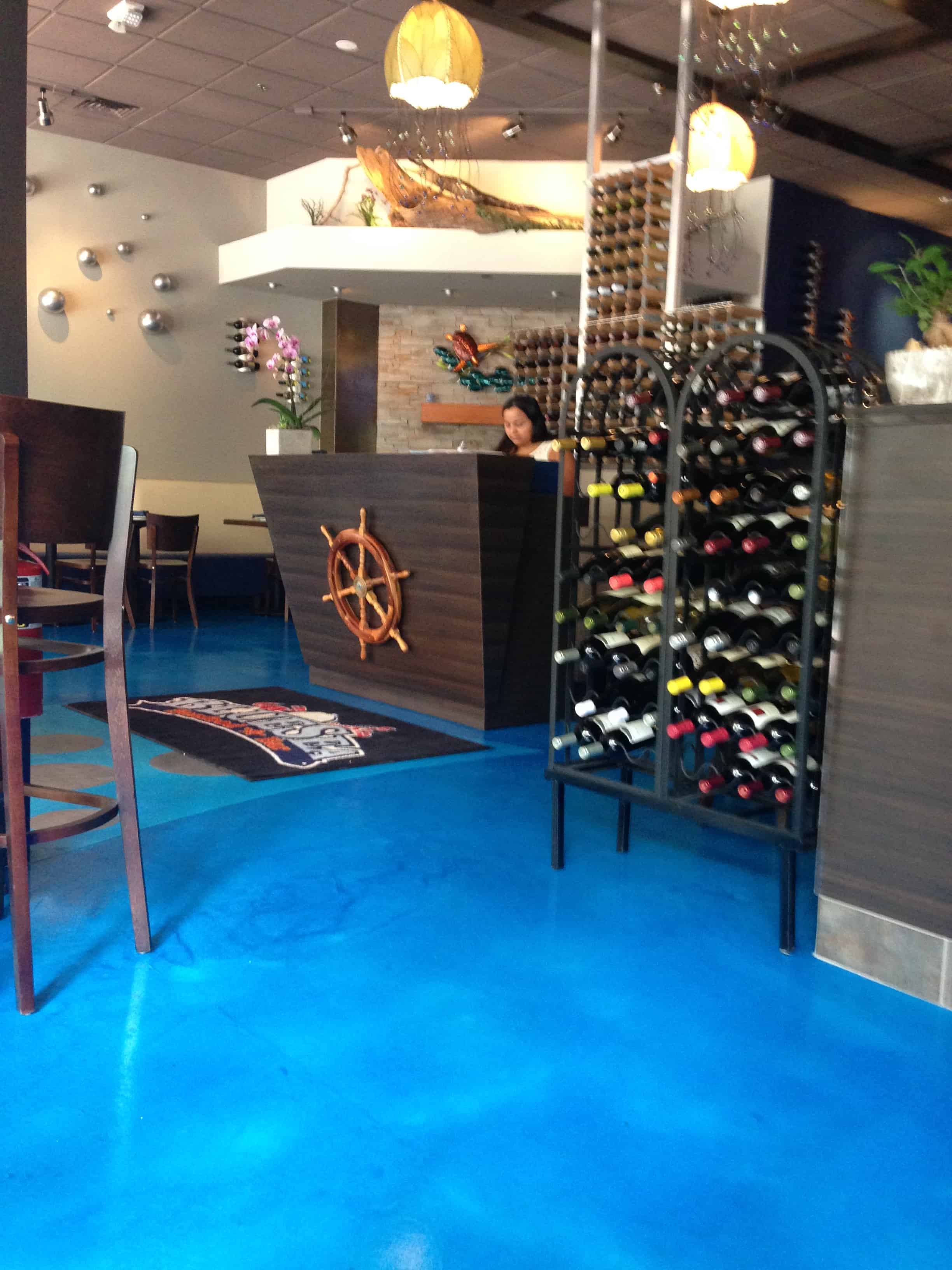 Wow!! If you have not yet checked out one of the most incredible processes in decorative concrete flooring – have I got the scoop!!!There's a whole new magic show available for adding mega "bling'" to your concrete floors — metallic epoxy coatings allow you to "guild" your concrete – simulating the timeless looks of copper, silver, old world bronze, nickel, and other metallic patinas.
I'm talking about metallics – and no it's not a heavy metal rock band. Metallic floors have been around for the past 6-7 years, but are really starting to take off as the materials have been fine-tuned and decorative concrete contractors have grown more confident using these really cool materials.
Some of these coatings contain real metallic powders, while others use special reflective pigments. They are especially popular for retail floors, office, and restaurant settings, where a modern, upscale look is desired. To see some of the unique effects possible with metallic coatings, take a look at these stunning projects.
You may recall fro
m an earlier blog post, I wrote about stained floors and some of the nuances of working with these types of materials – one of them being that, with stains, their colors are unpredictable. You never know what you are going to get at the end.
Really Cool – Metallics give you the randomness and color use of stains but with much more color control. https://www.sundek.com/products/epoxy-floors/sunmetal-fx
You may recall from another one of my earlier blog posts, I wrote about epoxy type floors and the advantages and disadvantages of the various materials. Metallics utilize those very materials as a carrier for the very fine metallic like "dust" particles which are applied to the floor using some very basic tools. Here is an overview of the process:
The concrete floor is cleaned and given a surface profile similar to a fine sand paper finish and then primered with a color tinted epoxy.Why epoxy? Other resin type materials can be used but epoxy has an awesome tenacity for bonding to concrete. Real grippy stuff!!
The colored primer coat will serve also as the background color for the metallic coat. For example we may want to create a very cool and steely look by using a light gray primer coat overlayed with silver and charcoal metallic colors swirled together.
The color primer is allowed to dry and then the floor is coated with another coat of epoxy but this time it is mixed with a colored metallic material that is spread with a trowel or squeegee.
Additional colors can swirled together to form some incredible looks. As the material is still wet and fluid it can be manipulated into some very fluid looks.
Added effects can also be achieved by broadcasting denatured alcohol or acetone which creates a fish-eye effect in the finish. The metallic look is also very compatible with other textures and materials such as stains or textured micro-toppings.
The epoxy metallics also look really sharp with custom saw-cut tile patterns.
What started out as a commercial floor application for warehouses and manufacturing facilities, metallic epoxy floor coatings are the hot new trend that is winding its way into homes as a high-end and exotic looking floor. Metallics are glamorous and "hip" looking.
The next question you might be asking is "Are metallic epoxy floors durable?"
Yes, these floors are considered a high performance floor coatings and designed to last for years. These metallic coatings are just as resistant to oil, salt, chemicals, acids, water, and wear as any other high performance epoxy floor. Maintenance is easy and the amount of light they reflect is outstanding due to the glossy nature of the surface. Like any other epoxy coating, they can be a little slippery when wet if you don't use an anti-slip additive in the final top coat.
Besides the glamorous decorative effects, the seamless epoxy floor is chemical resistant and easy to clean, making it ideal for concrete floors in medical facilities, restaurants, showrooms, and retail environments.
The Bottom Line: If you have an interior floor project that has been begging for something really different and everyday tile, carpet or laminate is just not going to cut it -check out metallic floors with your local Sundek Dealer. I like 'em!!
[button link="https://www.sundek.com/dealers/quote" type="big" color="orange" newwindow="yes"] CLICK HERE to have a Sundek expert contact you about your next decorative concrete project![/button]