SUNDEK Stamped Concrete Overlay
In our last blog I discussed Sundek Classic Texture, the signature overlay system Sundek created and developed way back in 1970. This system set off an explosion of other decorative concrete overlays that quickly followed. The growth of decorative concrete was also rapidly growing from another important market segment – stamped concrete.
Stamped concrete had always been the "go –to" look for hardscape designers and discriminating customers because it's timeless look of natural stone and other masonry materials.
System Limitations   Stamped concrete does however only provide a fairly narrow range of colors, textures and patterns. One of the limiting problems with stamped concrete was that the stamping tools were heavy cast metal, expensive and difficult to use even in the hands of a very capable crew. The coloring techniques and materials were and still are very unpredictable.
These limitations all changed with the innovation of flexible poly-urethane stamping tools and texturing mats. The concrete stamping process suddenly became a whole lot more user friendly. It also gave us the ability to design a project with a wide variety of realistic textures, intricate patterns and multiple color variety. The stamped concrete market exploded during the late 1980s and 1990s but the problem was that you still had to tear out your existing concrete and replace it with new concrete to be stamped and colored. This was a very expensive and many times resulted in unpredictable and unacceptable work.
Limitations Solved  A number of pioneers in the decorative concrete industry went at the problem by attempting to create the high end look of stamped concrete by applying a 2-4 inch cement topping layer to the existing concrete. Many of these projects resulted in failure. In time the cement polymer chemistry had advanced enough to where the overlays were as thin as 3/16"- down even from the ½ inch overlays from the early 1990's. This technology gave the stamped overlay materials the necessary properties to expand and contract once it was bonded to the existing concrete and stay bonded. With polymer cements available decorative contractors were able to reinvent and adapt polyurethane stamps and texture tools to create the classic looks of full depth stamped concrete.
Sundek's Innovation  Sundek recognized the huge demand for Stampable overlays and understood what it would take to bring a premier stamped overlay material to the Sundek Dealer network as a new product offering to their customers across the country.
Because of our years of experience of installing the Classic Spray Texture overlays the Sundek Dealer knew all the necessary requirements for proper surface preparation, crack treatment, and joint detail to insure the stamped overlay is going to perform for many years to come.
As with all new Sundek materials proper training for a quality installation was another key element to insure the long term success of this new system. Every year Sundek provides several installation training sessions for Sundek Dealers across the nation. This training includes the stamped overlays systems even though they were introduced to the Sundek nation over twenty years ago.
Designs  Sundek stamped overlay can be designed with a wide variety of natural stone textures, a host of masonry patterns -all combined with a rainbow of color techniques. Probably the most popular S
undek stamp overlay system I see being used today is the use of a low profile texture mat such a slate that is used in combination with a hand carved or taped pattern. The final color effect is often a soft blend of Sundek acrylic stains protected by the Sundek clear finish coat. This is a very clean look and will be a pleasure to enjoy for many years to come.The Sundek stamped overlay has also been adapted to the Custom Score line Effect, making it an excellent choice even for cracked concrete. Sundek stamped overlays can also be saw cut into any combination of patterns and designs – mostly in a tile or diamond pattern. This look is very cost effective and offers a high end look to any project.
Existing Customers  I see many of my previous Sundek customers calling to have us retrofit their Sundek Classic Texture jobs that were done years ago and installing the Sundek stamped overlay on the patio, walkways and driveway areas. I recommend the stamped overlays for pool deck areas with the use of a slip resistant material in the clear coat.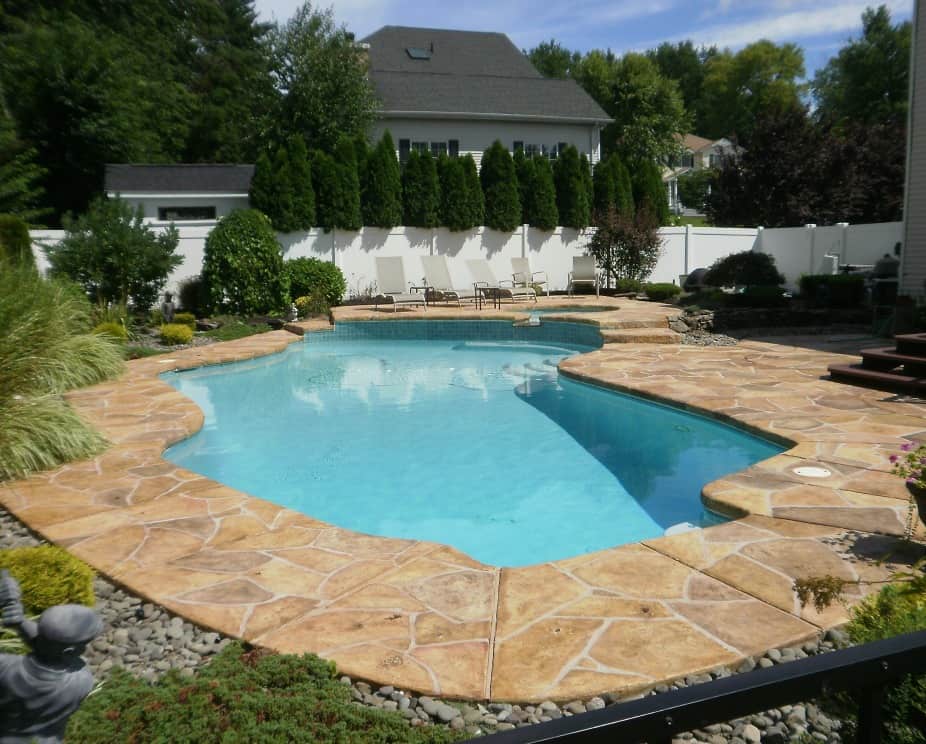 Sundek stamped overlays can provide the elegant look of high dollar stamped concrete on most existing plain, ordinary, gray concrete. Check with you local Sundek Dealer and have them give you a bid on your next project.
In the next part of our Sundek overlays series on we will look at the very cool look of the Sundek Tuscan Texture Effect!
[button link="https://www.sundek.com/dealers/quote" type="big" color="orange" newwindow="yes"] CLICK HERE to have a Sundek expert contact you about your next decorative concrete project![/button]